Table of contents:
Featured Alumnus: Kwabena Amporful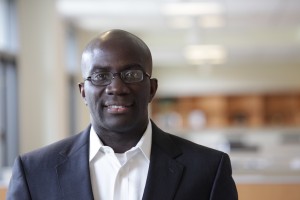 "It was during my high school years that I first began to cultivate my core values, which have solidified over the years owing to the chain of events that have transpired since then."
Kwabena Amporful
IB Diplomate, 1999
SOS-Hermann Gmeiner
International College
With the support of Stanford University's Center for Social Innovation, Kwabena Amporful, founder and CEO of the Institute of Teacher Education and Development (INTED), is working to build a professional development culture in schools in Africa; this summer, INTED piloted with 67 participant teachers and school leaders from 14 secondary schools across Ghana. Kwabena is a 1999 IB Diploma Programme graduate, as well as an alumnus of Hampshire College in Amherst, Massachusetts, and the Stanford University Graduate School of Business.
Read Kwabena's full spotlight here
___
Behind the Scenes: Introducing the 2012-13 IB Alumni Advisory Council
The 2012-2013 IB Alumni Advisory Council launched in early September. The council is represented by 37 members from around the globe. These members will guide the development of the IB alumni network and support our growing alumni community.
Is your country represented on the council? We have members who attended an IB World School in the United States, the United Kingdom, Canada, New Zealand, Bosnia, Tunisia, Italy, France, China, Spain, Argentina, Colombia, and the Isle of Man.
This year, the council's initiatives include: supporting local alumni groups and chapters; strengthening social media channels and publications; building upon the resources available for alumni network members; and contributing to joint projects that support the IB mission. While all positions have been filled for this year's council, the council will begin accepting applications for new members in July 2013.  You may submit comments and questions to this year's IB alumni advisory council by emailing alumni.relations@ibo.org.
___
World Student Conferences bring together hundreds of IB students
In July 2012, the IB partnered with two universities to host the 2012 IB World Student Conferences. The conferences were held in Segovia, Spain at IE University and Vancouver, Canada at the University of British Columbia.Over 561 IB students attended from 50 different countries representing 190 IB schools.
The conferences provided a full week's schedule of lecture, discussion and activities. However, you don't have to hear it from us – while at the conference, students volunteered to  blog about the event and you can catch up on the day-to-day:
Segovia blog; Vancouver blog.
The conferences were designed to create a unique opportunity for students to take their education outside of the classroom and learn about the international community that shapes the world around them. More than 40 students attended the conference with the support of a variety of need-based scholarships.
The IB Global Recognition team is currently planning for the 2013 IB World Student Conferences.  For more information, please email recognition@ibo.org or visit the website at www.ibo.org/wsc/.
___
The focus of this issue of IB World Magazine surrounds the subject of international education, what it means to teach and learn in a rapidly changing world (and in radically different IB World Schools). The issue also explores how teachers are working with technology to create new opportunities for students.
Inside this edition: Sir Fazle Hasan Abed, founder of the world's largest NGO, BRAC, explains how he revolutionised primary education in Bangladesh, and philosopher A.C. Grayling ponders what the word 'global' really means, alongside fascinating snapshots of international learning in action in very different parts of the world.
___
Careers
The International Baccalaureate is setting up an IT Competency Center in Singapore to provide IT expertise to the entire IB. We are actively recruiting for 20 IT professionals. Openings include:
IT Application Manager
Application Support & Team Lead
Data Architect
Sr. Analyst Programmer/Analyst Programmers
IT Governence & Process Manager
Usability Analyst
and more…
To apply, please visit our careers site: http://www.ibo.org/jobs/
___
Alumni and schools making headlines
Around the world, IB students find themselves headed to top universities. Here's a roundup of the latest headlines:
How do you balance life as a student-athlete? While students take on this challenge every year, the IB is looking forward to a partnerhips aimed at helping athletes make the grade:
IB schools and educators taking a creative approach to learning: