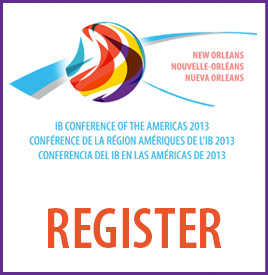 We are pleased to announce that the IB Conference of the Americas will be held in New Orleans, LA, USA, from 18-21 July 2013!
The IB Conference of the Americas represents the largest annual gathering of the global IB community. The 2013 conference in New Orleans will be no exception, as we expect over 1,500 attendees from over 30 countries. These attendees represent leaders from over 500 schools at every level.
Full details:  www.ibo.org/iba/conference/
Keynote and featured speakers include:
Explorer, social entrepreneur and environmental advocate Philippe Cousteau; actor Ben Walden; spoken word poet Sarah Kay; president of CBK Associates—International Education Consultants, Cathy Berger Kaye; Aleph Molinari, President of the Fundación Proacceso; Mary Ehrenworth, the Deputy Director at the Teachers College Reading and Writing Project, Columbia University; Dr. Amanda Céspedes Calderón, physician at the Universidad de Chile; and Jeffrey Beard, Director General of the International Baccalaureate.