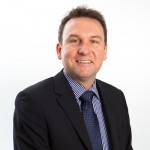 Richard Henry is the newly appointed director of Global School Services. School leaders in the AEM region may know Richard as the recent head of development and former head of AEM school services. His wealth of IB experience—as a staff leader, an IB teacher, a coordinator, and head of school in Indonesia—will enable him to oversee services to schools with a clear understanding of the many different groups that together make up the greater IB World community. Richard assumes his new duties as of 1 July 2015.
Improved communications and social media have enabled people to be more connected than ever before. It follows that developing young people who are internationally minded and engaged have become key factors in education. In our quest to attract many more schools and students to the IB, we often promote the fact that the IB prepares students to confront global challenges and to find solutions to global problems.
As part of the IB continuum, the five-year Middle Years Programme (MYP) for students aged 11-16 years provides a rich teaching and learning environment in which students are the center of learning. They engage in their learning by making connections between their subject areas and by linking their learning to the world around them. All MYP students study a second language and strive to understand other cultures; they develop awareness of the human condition and gain understanding of the commonality of the human experience.  In addition to the full five-year programme, the MYP is currently also available in two-, three- or four-year formats, as either a prelude to the Diploma Programme (DP) or as a follow-on to the Primary Years Programme (PYP). Even so, the existing implementation rules have had the effect of limiting access to an MYP education.
Now, a new way to extend access to the MYP is available to all schools. A freestanding two-year Middle Years Programme is a new option. Under this rule change, schools may offer any two years of the MYP. A full description of the new MYP flexibility is available in the IB Guide to Authorization.
Schools interested in offering a two-year version of the MYP should contact an IB development team in their respective region:
Africa, Europe and the Middle East
The Americas
Asia Pacific
Schools interested in implementing the MYP under the revised rule may apply to the IB any time from July 2015 onward.
MYP educators will receive up-to-date MYP implementation guidance and professional development (PD) opportunities designed especially for those new to the IB, including support materials, fully trained PD workshop leaders and post PD workshop surveys that assure quality and satisfaction. PD workshops also provide excellent networking opportunities to engage with other educators.
I invite you to take a closer look at the MYP and discuss with your school community the potential of this excellent programme. IB regional office representatives will be pleased to answer your programme implementation questions and further explain the IB authorization process.
Please share this blog post with your social media networks to ensure that educators in your community and in your region are well informed about this exciting new opportunity—a major development in broadening access to an IB education.
#
Special opportunity: Three cost-free, no-obligation MYP eAssemblies are scheduled in September, October and November 2015 to highlight the MYP and its newest innovation: eAssessment. Meet IB leaders at the forefront of interdisciplinary international education and hear from MYP educators from around the world at one or all of these interactive events. Find eAssembly agendas, schedules and complimentary registration online.