Diploma Programme (DP) students apply their science skills to respond to different scenarios, simultaneously learning about collaboration, communication and networking
The annual TMS group IV project field trip is always filled with excitement, and this year was no different. IB Diploma Programme (DP) students took part in the live-action game to gain experience of coping with natural disasters.
Students at TMS School, Canada, were split into teams made up of the different science disciplines and given a fictitious university organization. They were handed a profile identifying their 'university's' strengths and shortcomings, and each student was given a role to act out, such as Head of the University or Head of Health & Safety.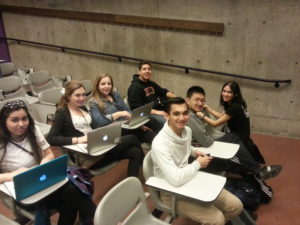 The teams were presented with a disaster scenario and had to consider it from the perspective of the different science disciplines, and through the lens of their roles, before developing a professional response.
The scenarios involved disease outbreak, e-coli contamination and an earthquake.
At the end of their two-day project, in a mock press conference, teams presented their course of action and had to defend their decisions amidst a barrage of questions from the 'press' (teachers).
Steven Alves, DP physics and mathematics teacher, says: "The mega game grew out of a desire to present the students with an engaging, creative activity that would give them the opportunity to examine different scenarios across the different science disciplines.
"We use it as an immersion experience in science for DP students. In other years, our annual trips immerse the students in culture, history, and language.
Single science students have gained a greater awareness of how the different science disciplines approach, consider, and resolve issues."
The project helped to develop collaboration, communication and networking skills and encouraged students to get creative.
Alves adds that the project has enhanced the students' global connectivity and awareness.
Students now recognize that no solution is made in isolation and often involves teamwork both internally and externally, and how the ramifications of solutions often have an affect beyond the local situation," he says.
This article is part of a series of stories from IB World magazine that bring to life the wonderful initiatives undertaken by IB students and educators from around the globe. Follow these stories on Twitter @IBWorldmag #IBcommunitystories. Share your great stories and experiences: email editor@ibo.org