Cellist student organises charity concert and raises over USD$3,000 for refugees
Rosie Burns-Pavlik, a student at Harrison High School, in Michigan, US, combined her love of music with her passion for service, and organized a classical music concert for not-for-profit organization Freedom House.
The Orchestrating for Freedom concert, which was part of Rosie's IB Essentials class, raised USD$3,300 for Freedom House. The organization provides a temporary haven for people who have escaped persecution in other countries and are seeking asylum in the US and Canada.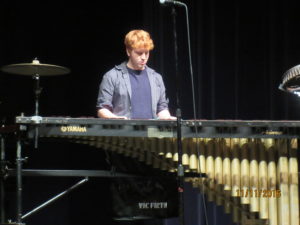 "It provides residents with food, shelter, legal, medical and psychological services while helping them obtain asylum. It is the only shelter of its kind in the US that does not charge its residents for its services," explains Rosie.
Rosie had previously volunteered as a babysitter for Freedom House and quickly became interested in the international human relations aspect of the charity. She says: "I feel such an emotional connection not just to the organization but to all of the people who live there as well.
The concert gave me an opportunity to learn more about Freedom House and how I can help them more."
Local concertgoers were treated to music from Harrison student instrumental soloists, including Rosie, who plays the cello and is also part of the Detroit Metropolitan Youth Symphony. "At Harrison High School, we have a great music programme but we don't have anywhere for classical musicians to show off their solo talents. I wanted to find a way to showcase this talent."
The money raised will be used to buy laundry detergent, toiletries, undergarments and other items that are not in Freedom House's general budget but are needed.
Orchestrating for Freedom has taught Rosie a lot about time management. She says: "I tend to procrastinate a lot but, for this project, I started the day I got approved and worked on it a bit everyday."
The concert was the culmination of six weeks of hard work and organization. When the donation was presented to Freedom House residents, Rosie says she felt a huge sense of pride.
This article is part of a series of stories from IB World magazine that bring to life the wonderful initiatives undertaken by IB students and educators from around the globe. Follow these stories on Twitter @IBWorldmag #IBcommunitystories. Share your great stories and experiences: email editor@ibo.org