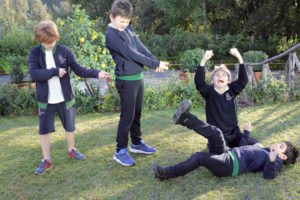 PYP class used the popular new craze to highlight different types of conflict and consider how they could be solved
The 'Mannequin Challenge' took the internet by storm in 2016. It saw people freeze in their positions every time 'Black Beatles' by Rae Sremmurd played. But PYP Teacher Westley Young found it also provided an ideal learning opportunity for his students at Rome International School, Italy.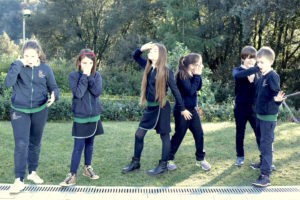 Young wanted to capitalize on his students' enthusiasm and engagement during drama activities, and was looking for ways to integrate drama into an inquiry about peace and conflict resolution.
"To help students develop their use of body language for communication purposes, I presented them with the task of creating mimes to show examples of conflict," he says.
Students watched mimes from classic films and recent television talent shows to help them understand how simple actions or more complicated ideas can be communicated without speech, but it wasn't long before Young came across the Mannequin Challenge on Twitter.
"I instantly saw the possibilities to help develop the students' engagement even further. Students brainstormed different types of conflict to be represented," he says.
Taking advantage of a global viral trend such as the Mannequin Challenge is ideal to show students how body language can communicate an emotion or a situation with clarity, boiled down to the most essential pose, and it helps make current events purposeful, engaging and fun in the students' learning."

The central idea of the unit was 'finding peaceful solutions to conflict leads to a better quality of human life'. We tried to represent conflict by freezing in a certain position. It helped us understand different types of conflict, the causes, and how they could be solved." PYP student Vicky adds.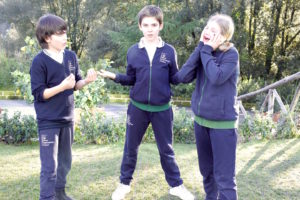 The Mannequin Challenge is making its way throughout the school. Young recently collaborated with a middle school history class at the school to recreate a battle scene as part of a project, which was a success. He says Mannequin Challenges are now being requested from other classes to demonstrate learning.
Watch the Mannequin Challenges!
Collaborative challenge with Grade 7
This article is part of a series of stories from IB World magazine that bring to life the wonderful initiatives undertaken by IB students and educators from around the globe. Follow these stories on Twitter @IBWorldmag #IBcommunitystories. Share your great stories and experiences: email editor@ibo.org