Fun and interactive educational game encourages students to engage in their learning
What better way to engage students than to let them play a game? James Weichert, Middle Years Programme (MYP) student at Atlanta International School (AIS), US, used his personal project to design and create an educational game for first grade students [five to seven-year-olds].
Wisdom Warriors focuses on language arts; mathematics; sciences; and social studies. Students enter a virtual medieval-themed fantasy world, play games and solve puzzles to complete a series of fun challenges. Essentially, James is using gamification – the use of gaming to make education fun and engaging – to motivate students to succeed.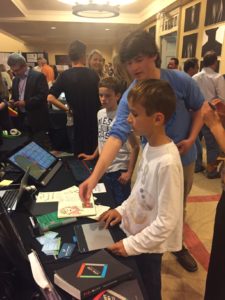 Students can use the online game for 10 to 15 minutes a day at home, or in class. It helps strengthen skills and concepts learned in class and prepares students for the next school day.
"The game is also playable in Spanish, as my local public elementary school has a majority Hispanic student population," explains James. "This allows for native Spanish speakers to strengthen their English by playing the same game levels first in Spanish and then in English, or vice versa. This has proved beneficial at my school.
"As an up-and-coming developer, I have certainly learned efficient coding skills and problem-solving strategies during this game's development. But what I learned about gamification and education in general was the most powerful learning experience for me," says James.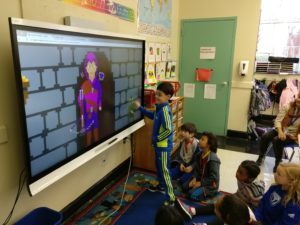 "A high number of levels, complex mechanics or even the educational aspect does not automatically make a game a positive experience; instead, it's the digital design that allows the user to enjoy their learning."
He adds that while he developed the following IB Learner Profile attributes "thinker", "knowledgeable", "reflective" and "communicator", "caring" really describes the essence of what he learned.
"Everything I did with regards to the game, I did to benefit the user. For example, in defining my project goal, I ensured that I emphasized the importance of the dual-language capabilities of the game. Also, I ensured that each game character was unique and diverse, representing the diversity of my target audience."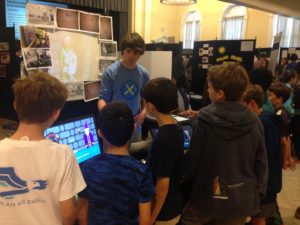 Wisdom Warriors could soon be rolled out as a pilot for all first grade classes at AIS and neighboring public schools. James is also discussing the possibility of using the game as a learning tool for bilingual summer camps at AIS.
In the meantime, James will continue developing the game and work towards his goal of releasing a web and mobile version later this year. "My ultimate goal is for the game to be played by as many students as possible," he says.
This article is part of a series of stories from IB World magazine that bring to life the wonderful initiatives undertaken by IB students and educators from around the globe. Follow these stories on Twitter @IBorganization #IBcommunitystories. Share your great stories and experiences: email editor@ibo.org.