Knitting class fosters friendships and helps children in need
Moving to a new country and starting at a new IB World School, is not just daunting for children, it can also be an overwhelming experience for parents, too.
That's why Saint Maur International School, in Yokohama, Japan, offers an adult Enrichment Programme. Many parents who attend are adapting to living in a new country and the classes help them make new friends, as well as challenge themselves.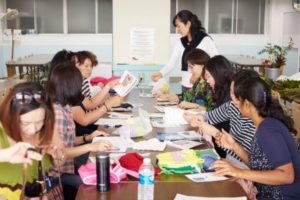 Parents and other people in the community volunteer to teach classes. There are over 80 classes and tours throughout the year. One class is The "Knitting Blankets", which creates items for South African charity Knit A Square (KAS)
Juli Harrington, an IB parent and Parent Support Group Chair, and her friend run the knitting class every week.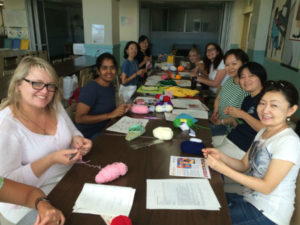 She says: "Most of the parents are in Japan because of their partner's jobs. Many of them are here for two to four years before they move on to another country.
"We have teachers, financiers and lawyers among others. Most are trying their best to live in a new country and find the Adult Enrichment
classes really help them make new friends and challenge themselves."
To date, Knitting Blankets has made 420 squares, 20 hats and 10 sets of hand warmers.
The squares are donated to KAS and added to the many thousands of squares donated from around the world. These are made into blankets and distributed to vulnerable children living in poverty, and those with HIV and AIDS. As these are auto immune diseases, keeping warm is essential to staying well.
---
This article is part of a series of stories from IB World magazine that bring to life the wonderful initiatives undertaken by IB students and educators from around the globe. Follow these stories on Twitter @IBorganization #IBcommunitystories. Share your great stories and experiences: email editor@ibo.org.