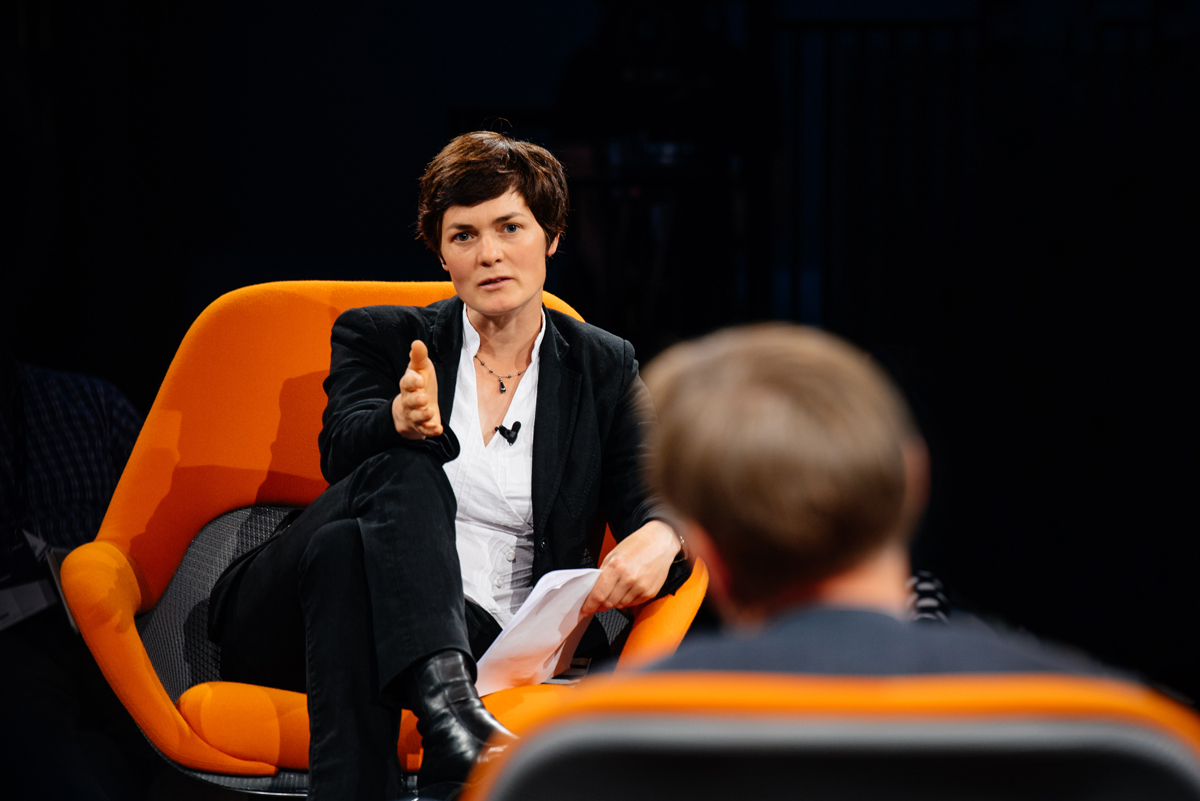 All alone, on a boat, circumnavigating the globe in harsh conditions, and a very real understanding of what it means to rely on a finite supply of resources and their link to success or failure …  an idea is sparked for ways to shift society to a more sustainable future.
In 2016, we began our partnership with the Ellen MacArthur Foundation; a moment of great pride for us as we drew towards our 50th year. Dame Ellen's incredible achievements as a sailor are world renowned, and her creation of the Ellen MacArthur Foundation was  a result of her time spent at sea. Following time spent with governments, scientists and research groups, Dame Ellen established the Foundation in a bid to design a shift to a circular economy framework.
What is circular economy?
"At the moment our economy is predominantly linear, where we take a material out of the ground, we make something out of it and ultimately that product—for the most part—gets thrown away. When you think in a circular way, you think from the beginning of the design of the product, how to design it differently, how it will fit within a system, and how the materials eventually will be recovered", says Dame Ellen.
Together with the Foundation, we've made circular economy a key part of the IB Diploma Programme (DP) curriculum. To mark the success of our partnership, we asked Dame Ellen what has inspired her, what tips she'd offer to IB students as they forge ahead in their studies and careers:
Which of your skills have led to your pivotal role in bringing the importance of a circular economy to the fore with businesses and governments, and now the education world?
What has helped me in my career as both a professional sailor and an advocate for a circular economy has been identifying what I am passionate about, setting clear goals that will take me closer to fulfilling that passion, and persisting—no matter what!
Succeeding in bringing the circular economy concept to the fore is primarily down to a team where each individual believes that the extraordinary is possible. This means working with perseverance and dedication, thriving on challenges and not being afraid to be a lone voice. All these skills are key to achieving a goal—big or small. And the same applies when you try to break a world record, you rely on strong and driven individuals.
There is also the ability to look at the big picture. At sea, you need to understand systems. You realise that every tiny change in wind direction, sea temperature or depth of the ocean will have an effect. Everything is connected. That is no different in our economy.
What advice would you give students today on how they can prepare for a future as agents of change?
Students today are entering a world that is increasingly unpredictable and subject to rapid change. The essential skills required for navigating such a world include creativity, adaptability, and resilience.
My advice would be to stay curious about the world, enquire deeply into things and ask questions. Being curious and never stopping learning has certainly helped me enormously.
In today's increasingly complex world, what role do you believe your Foundation's partnership with the IB plays in making an impact on education?
From the outset, the Ellen MacArthur Foundation's work in education has been about inspiring learners to rethink the future. We want to share a vision of a system that works in the long-term in which economic activity is no longer synonymous with resource depletion and pollution.
But how do we make this happen?
The key, from an educational perspective, is systems thinking. By this I mean the ability to understand how the parts of a system relate to the whole. This implies a shift from a mechanistic view of the world to one that appreciates how elements relate to one another and combine to produce certain outcomes. If we hope to change complex systems for the better this type of thinking is essential. An IB education is a unique opportunity to nurture such thinking because it gives students access to a wide variety of perspectives, knowledge and experiences that shape them beyond academic success.
By exploring the concept of a circular economy, which is rooted in systems thinking, we hope that young people develop the skills and mindset needed to move from a linear to a circular economy. With a generation of creative and enquiring minds thinking in this way, the potential for a positive future is within our grasp.
As we are celebrating the impact of our community of educators, is there a person who inspired you during your lifetime of learning/education?
My Grandmother inspired me hugely. Despite growing up in a poor family and having to turn down a scholarship to study as she couldn't afford not to work, she achieved her lifelong dream of getting her degree in her 80s. She spoke on behalf of all the students from that school year at the degree ceremony and had everyone in stitches. She was very ill as she finished her degree, but never gave up on her dream. She taught me never to give up.