Alumna Theadosia Kurniawan sits down for a conversation with fellow IB graduate Akshi Singh to look at the journey they have taken since their days in the IB Diploma Programme (DP). This story is part of our series featuring graduate voices.
By Theadosia Kurniawan
It has been five years since I attained the IB diploma, but my IB journey is not over yet! Since then, I have had the pleasure of crossing paths with many alumni, purely by chance! Even though we are not classmates or did not study at the same school, it is amazing how we are so connected! I love finding out about their IB journey, what part of the world they are from and what they are doing now. Growing my IB alumni network makes me feel that the world is a much friendlier place.
Just five months into my first full-time job, I have worked with not one, but two IB alumni! I decided to sit down and chat with one of them, Akshi Singh, and discover her IB story…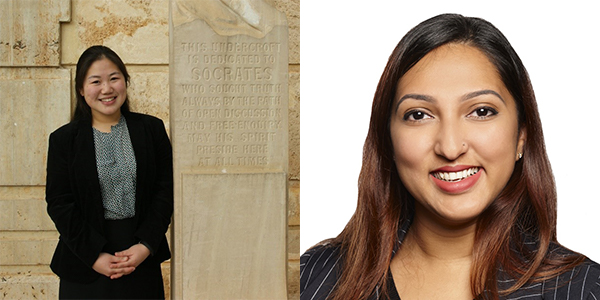 Introduce yourself! When did you finish the DP and what do you do now?
Hi, my name is Akshi! I was born in India and currently live in Perth, Western Australia and working at Ernst & Young as a Risk Advisory Consultant. I graduated IB in 2007 from Bangkok Patana School in Bangkok, Thailand. I did the full diploma which included 3 higher level subjects, three lower level subjects, CAS, TOK, and EE.
After graduating, I went on to pursuing my bachelor's degree in international business management, after which I worked at KPMG for 3 years as a risk and internal audit consultant. I then decided to do a master's degree in social entrepreneurship at the University of Southern California because of my passion for the social sector. So my life has revolved around 4 different countries so far!
How would you describe your IB experience in 3 words?
Insane, Fun, Challenging.
What was your favourite IB subject and why?
I loved DP biology, because back then I was very intrigued by it and wanted to study medicine. Of course, life has its twists and turns and you don't always end up the way you had envisioned, but I am happy where I currently am!
"We were a crazy bunch, but after all the hard work … this was a cause for celebration!"
Do you have any funny moments you would care the share during your DP journey?
YES! On the last day of school, we decided to have a 'Senior Prank Day'. As the name suggests, we decided to put shaving cream in all the bathroom mirrors, took our head of year's table out on to the garden and filled his room with balloons, and to top it all off we put toilet paper on trees outside. We were a crazy bunch, but after all the hard work we had put in towards our studies, this was a cause for celebration!
Do you feel your IB diploma has prepared you for the outside world?
Yes, it definitely has! I think because the IB diploma is rigorous, it not only prepared me for university but also helped me get into good universities. It has also taught me to give back to my community and develop a passion for continuous learning.
"These core DP subjects are not only challenging but they help shape you as a person."
What do you think makes the IB different to other educational curriculums?
The IB is different from other educational curriculums in the fact that you have 6 different subjects to cover, 3 at higher level and 3 at the standard/lower level. This means that you can focus on the areas of study that you enjoy or are most interested in. IB also pushes you and your limits by having you incorporate Creativity, Activity, Service (CAS), theory of knowledge (TOK), and Extended Essay (EE). These core DP subjects are not only challenging but they help shape you as a person.
What kinds of skills do you feel the IB program helped develop in you the most?
I think the Diploma Programme has helped me learn to handle pressure well, which is vital in the working world. Additionally, I think the IB has helped me to help give back to the community and develop a passion in social impact and entrepreneurship.
"Don't be afraid to spread your wings and fly, life is uncertain and full of change."
What piece of advice would you share to those starting their DP journey?
My advice would be that, don't be afraid to spread your wings and fly, life is uncertain and full of change. Maybe what you want and envision today may not be where you end up tomorrow, but it is important to follow whatever vision it is you are passionate about!
Thea Kurniawan graduated from Binus International School Simprug, Jakarta with the IB diploma in 2013. Since completing her BSc in Engineering from the University of Western Australia in 2017, she now works in the Project Management division of Ernst & Young. In her spare time, Thea enjoys volunteering with youth organisations and being an advocate for girls in STEM.