IB students from Canada qualify for the Tournament of Champions
Three Diploma Programme (DP) students from Cobourg Collegiate Institute (CCI), Ontario, Canada have reached the World Scholar's Cup Tournament of Champions.
The competition, which takes place over a series of rounds, aims to motivate students of all backgrounds to discover new strengths, practise new skills and to inspire a global community of future scholars and leaders.
The CCI students—Aidan Woodward, Daniel Noronha and Ben Storm—firstly competed against 25 other teams in a series of academic challenges in the tournament's Toronto Regional Round in June.
Each round of the competition involves a Scholar's Bowl (team quiz answered using clickers), Collaborative Writing (essays on specific topics), Scholar's Challenge (multiple-choice quiz) and a Team Debate. In Toronto, the team came fifth overall, winning 11 silver and 13 gold medals, plus a trophy for Ben. This result got them through to July's Barcelona Global Round.
"The skills needed to successfully complete the challenges were those that were emphasized in my IB education," says Ben. "The persuasive essay was something we'd had much practice in thanks to the DP. For exams in both English and history, the DP requires us to be able to write efficiently and convincingly in a short time period. So the writing challenge felt just like doing another practice paper in class. These skills of developing a good argument on our feet also helped us greatly in the debating category. The curriculum taught in the DP gave us background knowledge on issues discussed both in the debates and quizzes."
For Barcelona, Ben says the team prepared by studying the given topics, along with doing practice papers and learning more about debating skills and terminology.
Dorothy Noronha, Business Teacher and IB CAS Coordinator at CCI, says: "The team did very well at the Barcelona Global Round and they had a great time. Out of over 330 teams, they came 47th overall, which has qualified them for the Tournament of Champions to be held at Yale University in November."
Ben says: "The IB learner profile attributes such as communicators, inquirers, and risk-takers were essential in the World Scholar's Cup. The ability to communicate effectively, which is a key feature in IB studies, was also important in the essay and debate portions of the Cup.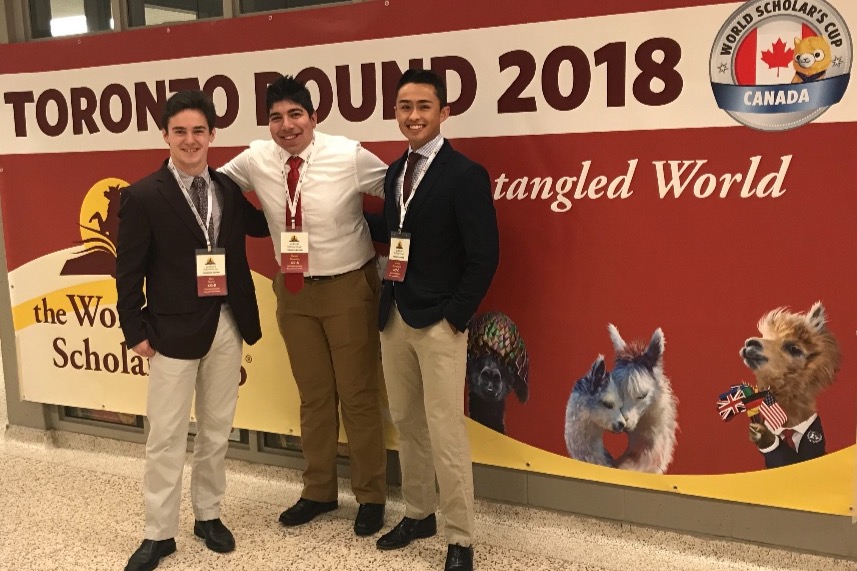 "By being curious and consistently interested in learning, we were able to answer questions that we had not only learned about in class, but in our own research. As we had been challenged many times in the DP, we were keen to take on new challenges offered in the Cup, such as the Team Debate, which we were fairly new to.
"Overall, the mindset and traits gained and enhanced through the DP not only helped with our final exams in May, but were essential in our success at this academic competition."
---
This article is part of a series of stories that bring to life the wonderful initiatives undertaken by IB students and educators from around the globe. Follow these stories on Twitter @IBorganization #IBcommunitystories. Share your great stories and experiences: email editor@ibo.org.
Related posts:
MYP students from Qatar were World Scholar's Cup finalists in 2014. Read their story here.