IB teacher Maina Gioko is not only an inspirational teacher – he works tirelessly to facilitate professional learning for educators in his country too
Kenya is currently rolling out a new national curriculum to transform its education system. It is a task that Maina Gioko, Vice Principal of Professional Development and Outreach at the Aga Khan Academy Mombasa, Kenya, has been closely involved in.
Maina explains:
"I have played several roles in the reforms, based on my school's expertise in digital literacy, as we are recognized as a Microsoft Showcase School [for implementing innovative practices throughout our leadership, teaching and learning] and our Curricular Strands align with the national programme of values."
He has provided advice on inquiry-based learning, digital literacy and assessment for the country's new competency-based curriculum (CBC). In collaboration with the Teachers Service Commission and the British Council, he was invited to prepare 16 national facilitators around the country to train 1,500 teachers on a CBC-enhanced programme.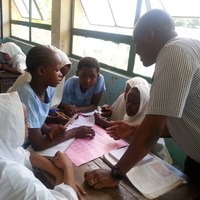 At the Aga Khan Academy Mombasa, he leads the professional learning programme, helping facilitate training, as well as teaching physics, design technology and world studies, and supervising IB Diploma Programme (DP) students on their extended essay.
His responsibilities for outreach involve him running the Professional Learning for Educators Series, which range from one-year certificate courses to customized courses.
"In the last nine years, we have reached 4,963 educators from 300 primary and secondary schools, two teacher training colleges and our county education department," he explains.
Real-life experiences
Maina says he chooses to teach at an IB World School because of "the type of graduates produced by the IB, the learning experience in and out of the classroom and the innovation latitude a teacher has in preparing and delivering the curriculum. The learning environment is engaging, relevant and connected to the real-life experiences of the learners."
A top 50 finalist in this year's Global Teacher Prize, Maina aims to bring the practical elements of learning to the forefront. He helps DP students gain scientific research skills through hands-on service learning. For example, every year he and his students carry out a deworming project in an area of poverty, combining this with community education on hygiene and the environment. The students collect data on the level of wellness and the quality of water in the area, and analyse and report on it.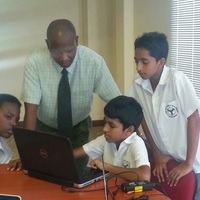 His approach is to use students' life experiences in his teaching. In lessons on energy usage, for example, he encouraged students to evaluate their energy consumption at home with their parents, which has led to some families switching to energy-saving bulbs and movement sensor security lights.
He says the IB learner profile is a beacon, which guides his professional work.
"The dynamic nature, reviews and updates of the IB are an indication of the currency of the programme. The elements of holistic development, inclusion and open-mindedness are aspects, which I value very much. The IB complements our school's Curricular Strands, which aim to strengthen understandings and dispositions needed by leaders of the future.
"The IB is the backbone of what I have become and what I do. It is the pedagogy, which ascribes to my philosophy of education."
---
This article is part of a series of stories from IB World magazine that bring to life the wonderful initiatives undertaken by IB students and educators from around the globe. Follow these stories on Twitter @IBorganization #IBcommunitystories. Share your great stories and experiences: email editor@ibo.org