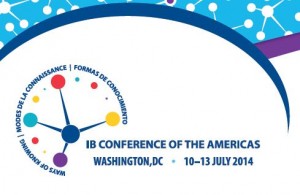 This year IB Americas Regional Conference will take place in Washington, DC from 11-13 July 2014. We would like to invite all those attending the conference to stop by the PYP booth, open from 11 to 12 July (see conference schedule), to meet the team,  ask questions about the programme, and make new connections with other IB educators.
Additionally, the PYP development team will present at the following sessions.
Session One: 11 July 2014 (14:00 – 15:00 hrs)
Title: PYP: What is in a Review?
Description: Significant, engaging, relevant, challenging: a review of the IB's Primary Years Programme. Meet some of the PYP curriculum development team members as you learn about the PYP review and future programme development.
Session Two: 12 July 2014 (15:45 – 17:00 hrs)
Title: PYP – The BIG Ideas
Description: Enjoy an interactive session and dig deeper to learn how leadership, approaches to teaching and learning, early years, assessment, technology, and language and learning are helping to shape the future of the PYP.
Post Conference Session: 13 July 2014 (14:00 – 17:00 hrs)
Title: PYP – What is Next?
Description: Make an impact! Join a lively and animated group session designed to explore some of the PYP principles and practices under review. Learn how to make your thinking visible, share ideas, views and opinions about current PYP practice in ways that will inform the next stage of programme development. Experience scenario planning activities designed to help define the PYP for future generations of young students. Bring an open mind and a willingness to explore evolving global contexts for learning and 'what ifs' around the implementation of the PYP.
We look forward to seeing you in Washington!
PYP development team