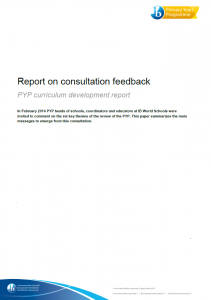 New curriculum development report
From February to May 2014, IB PYP educators were invited to comment on a consultation paper which outlined key themes being explored as part of the review of the PYP. A consultation feedback report which summarizes the main messages emerging from this consultation period is now available in the OCC in English, French and Spanish.
If you would like to comment on any aspect of this report, please email pyp.curriculum@ibo.org, send us a tweet @IBPYP, leave a comment below or start a discussion in the IB PYP Educators group on LinkedIn.