The author describes the steps their school took to combine the Common Core with the PYP curriculum requirements.
How many of us have gone through a curriculum mapping process that was challenging and daunting? Well, add to that the integration of Common Core State Standards (CCSS) into the Primary Years Programme. In our school, as in many, our teachers saw them as two parallel programs that needed to be covered throughout the year. The continuous struggle of ensuring that all standards were covered either through the programme of inquiry or outside of it created stress and apathy towards both approaches. This was the case at our school when we adopted the CCSS; a decision was taken to streamline our international curriculum K-12 to ensure cohesiveness and clear alignment. Below are a few steps we took to carry out a successful connection between the two, a plan that worked for us and might help other schools.
Step 1: First we needed to have a clear understanding of the impact the standards would have on our grade-levels. Therefore, it was important to redefine the needs of each grade-level as it related to the standards. This process showed teachers the specific concepts and topics that were to be taught in each grade, which brought mixed emotions mainly because teachers had to let go of certain topics they had been teaching for years. Nevertheless, that analysis gave way to a clear road map per grade-level.
Step 2: It was imperative to begin the conversation involving our entire staff about the different strategies we could use to develop an integrated curriculum between CCSS and PYP. Our teachers began aligning the standards to the existing programme of inquiry – a task that was eye-opening for us because we realized that revision was needed in order to become more transdisciplinary in nature. Not only were we facing the integration of the CCSS, but also the Next Generation Science Standards.  At this time, I needed a game plan to provide teachers comfort and buy-in with the implementation of these standards. Therefore, I made the decision to make this a four-year plan of implementation.
Step 3: Our school devised an action plan with clear objectives that were time-friendly to ensure that all teachers understood the process and had the time to become vested.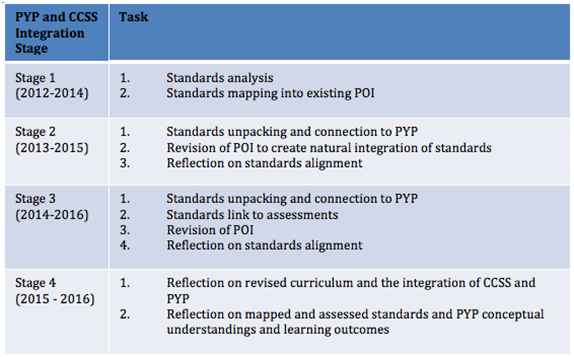 These steps supported the staff with gaining clarity of what the expectations were for curriculum leaders and faculty in our school.
Step 4: Then came all the dirty work! We began looking at planners and standards, finding a natural fit to some but not to all. It was impressive how our teams had a different view of mapping standards and alignment, but not all had the broader picture of linking them to the conceptual understandings and learning outcomes of the PYP. This task was eye opening to all of us as teachers developed their pacing charts and guidelines for certain practices. An example would be mental math. A point of contention for many, mental math practices needed to be clearly defined for all grade-levels. Therefore, I took on the task of following our same protocol and aligning the CCSS to the PYP objectives, which clarified the process for everyone.
Here is an example for grade 1: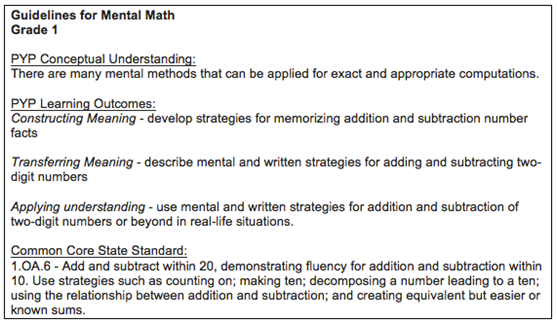 Lastly, our current practices have brought our school to where we are today. We continuously revise our programme of inquiry in order to naturally fit all Social Students and Science standards (NGSS) as well as CCSS for language arts and math. There have been mixed emotions with the process, but one that has helped us be intentional about curriculum mapping and to uphold the rigor of the PYP, CCSS and the mission of our school.
—
Diego Zaragoza Tejas is the Academic Dean and PYP Coordinator at the American School Foundation, A.C. in Mexico City. His newly found passion involves curriculum mapping and alignment, specifically with Common Core Standards and the PYP. He is also an IB Educator and is part of the Curriculum Connections pilot program through the IB. He finds interest in curriculum mapping especially done through online mapping platforms as well as teaching through inquiry.
Webinar on PYP planner and Atlas Rubicon: http://pd.rubicon.com/2014/05/08/creating-quality-pyp-units-quality-process/