In this article you will read about how a teacher brought a technology into a classroom to make learning experience more engaging and visually relatable for students.
Can you remember the age at which you had it clear in your mind as to what you want to become and how? For some of us, it may have been our final year of school or even later. Fortunately, the present generation starts setting goals pretty young and in this particular scenario – as young as five or six years old.
While working on their final line of inquiry (my goals) under the transdisciplinary theme Who we are (central idea: Increasing awareness of our personal characteristics and abilities, and those of others, allows us to develop), the first year students were given a goal sheet in which they had to fill in their career goals including two major practices which would help them in achieving those goals. They came up with unique career options and determined ways of achieving their ambitions.
To make this learning experience more engaging and visually relatable for the students, I thought of bringing in technology into the classroom. I worked individually with each child on an app called Tellagami in which students designed their adult avatars. Once satisfied with how their future selves looked like, they searched, with support, for a suitable background to go with their career on Google images. After putting up the background, they recorded their voices in first person talking about who they want to become and how would they reach their goal. Here is a video or gami as they are called, of one of the students.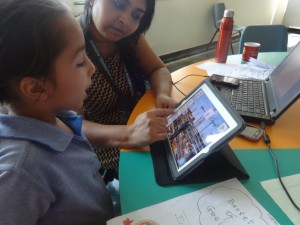 In another instance, the second-year students were learning about the types of jobs people do in their workplace under the theme How we organize ourselves (central idea: The workplace is an organization where people share responsibility towards a common goal). They too, chose a job which they wished to do when they grow up and explored the different responsibilities associated with it. Yet again, to make it more interactive and fun for the kids, in came an app called ChatterPix Kid. As the name suggests, it makes your pictures chatter. The students looked for images of the different jobs and typed in a title. Then came the fun part – they could draw a mouth on their pictures and make it talk in their own voices. I was amazed to see how clearly a six year old knew and could state the demands of the numerous occupations. Here is a sample video of one of the students.
Academically, these activities built upon the students' prior knowledge and helped in constructing a better and wider understanding of their goals. When all of these videos were shared with the whole class, the students became aware of a variety of different options available to them when they grow up.
Through using technology as a tool, students developed research skills, practiced decision making and improved on their voice modulation. In addition, they increased their confidence while listening to their own voices. As a true tech enthusiast, I felt that the integration with technology accelerated the students' cognitive thinking and their career goals would be cemented more firmly in their minds for a long time to come.
—
This is Sana's fifth year in the PYP curriculum and twelfth in teaching. She is passionate about technology and integrating it with classroom learning. Sana believes that technology is a huge catalyst in engaging students towards enduring understanding. She is an enthusiastic tweeter and enjoys learning from her PLN. She tweets at @sansanananana.