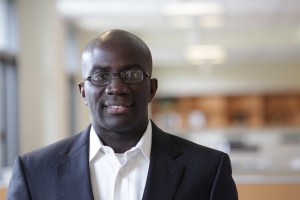 Kwabena Amporful is a 1999 IB Diploma Programme graduate of SOS-Hermann Gmeiner International College. He is the founder and CEO of the Institute of Teacher Education and Development (INTED) and is working to build a professional development culture in schools in Africa.
After graduating from Hampshire College in Amherst, Massachusetts, and the Stanford University Graduate School of Business, Kwabena Amporful worked on Wall Street as an equity analyst and in private equity with the largest full service investment bank in Ghana. Yet he focuses his passion and energy toward improving Ghana's education system.
In 1995, Kwabena arrived in Tema, located 30 kilometers east of Ghana's capital city. Soon to enter his first year of high school, he was one of about 30 students admitted to the SOS-Hermann Gmeiner International College (SOS-HGIC) on a scholarship. SOS-HGIC, a prestigious four-year boarding school, had become authorized as an IB World School only two years earlier. Kwabena had a healthy respect for the school's reputation, as well as the expectations placed upon its students. Looking back, Kwabena says his initial reaction to admission to the school left him with mixed feelings of "excitement and trepidation."
"It was during my high school years that I first began to cultivate my core values, which have solidified over the years owing to the chain of events that have transpired since then."
Known for its commitment to "knowledge in the service of Africa", SOS-HGIC included community service projects quickly as part of every student's routine. Before long, Kwabena and his classmates developed a relationship with the nearby village of Kakasunaka. They volunteered to teach primary school students, raised funds for the community, and laid the groundwork to connect the village to the national water pipeline.
Before beginning classes at SOS-HGIC, Kwabena was familiar with the school's strong academics and sports programs and its visibility in the community. Impressed by the school's public image, Kwabena says that the "opportunities available to [him] as an SOS-HGIC student trounced [his] initial unease." He adds that, "it was during those high school years that I first began to cultivate my core values."
Kwabena says these projects left him with a strong sense of accomplishment and gave him "a good story to tell." However, his experience extended beyond storytelling and changed his views on the education system in an unexpected way. At SOS-HGIC, Kwabena found inspiring, dedicated teachers and participated in many activity-based learning projects, even on weekends. During school break, he "paid close attention to the widening differences between [himself] and [his] friends" and noticed that most secondary students in Ghana ended up doing a great deal of "learning on their own." Most of this learning was in the form of reading and regurgitating, referred to locally as "chewing and pouring."
(Kwabena's connections from SOS-HGIC have continued to grow throughout the years and have been instrumental in shaping his work in education. The current principal of SOS-HGIC, Mr. Isreal Titi Ofei, helped guide Kwabena as a young student and now Mr. Ofei serves as the chairman of the board of INTED, offering a wealth of experience and leadership to the organization).
Like many students leaving SOS-HGIC to enter university abroad, Kwabena followed what he calls a "four-year long maturing process." At Hampshire College in the United States, Kwabena encountered an extremely liberal arts environment, where he could build and pursue his own concentration, major, and interests. He split his work at Hampshire between African political economy and economics and business internships. It was his first experience in an environment that promoted "individualized academic goals" and it tested a completely new set of skills that paid off. He met new friends, co-founded the African Men and Women of Hampshire organization, and received a grant to design a cultural exchange between students of Hampshire and Aflao, Ghana, while working towards his Bachelor's in Social Science. Hampshire College tasked him to bring an entrepreneurial thinking to the problems around him. Following his graduation, he accepted an offer from a Wall Street firm where he interned his previous summer, with the support of the Sponsors for Educational Opportunity (SEO).
During his time on Wall Street, his business sense and commitment to education led him to co-found the NEO Africa Foundation with a few of his classmates from SOS-HGIC (NEO abbreviates "Never Ending Opportunity"). The foundation is a nonprofit organization that aims to provide scholarships and mentoring opportunities for underprivileged secondary students. This experience led Kwabena to want greater development in "thinking like an entrepreneur to address global problems." He applied and was accepted into the MBA program at the Stanford School of Business to develop his entrepreneurship and private equity savvy.
At Stanford, Kwabena was an Atwater Scholar and selected as the 2011 Social Innovation Fellow, allowing him to develop INTED, a nonprofit that aims to inspire and nurture teachers in Ghana, while providing them with needed resources to appropriately educate students. The goal? Kwabena hopes to reach all secondary schools in Ghana and create a self-sustaining system of training and collaboration for teachers and school leaders. The pilot training portion of the INTED program wrapped up in July 2012.
Learn more about Kwabena, INTED, and the challenges faced by students and educators in Ghana through the resources below:
Kwabena Amporful's profile as a Social Innovation Fellow
Stanford Graduate School Business Award
Stanford University Center to Support Excellence in Teaching
INTED
NEO Africa Foundation
Sponsors for Educational Opportunities (SEO)
___
This alumnus spotlight appears in the October edition of the IB Alumni Network newsletter – see the full newsletter here.