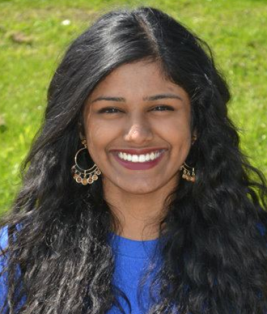 Eighteen-year-old Arthi Nachiappan recently won a national award in the UK for making a significant contribution to promote international understanding and global awareness. Arthi is a Diploma Programme student at Bilborough College in Nottingham.
The gold Sixth Form Colleges Award for International Understanding honors her participation in the school's Sierra Leone Project.
Arthi is a native speaker of English and fluent in Tamil, which she speaks at home. She is also studying Spanish and French and knows some Polish.
How did you get the idea for the Sierra Leone project?
The project came about from our college's contact with an alumnus of the Methodist Boys' High School in Freetown. He came in to give us a talk on the situation of the school and highlighted the help that was required. I then collaborated with a group of fellow IB students to form the Sierra Leone Project team and raise both funds for and awareness of the cause. I think the project appealed to us given that education is close to our hearts, and so the chance to help students like us who had fewer opportunities was really an unmissable one.
Can you give us some more details about how it works?
During the course of the project, we corresponded with the head boy of the Methodist Boys' High School and discussed our education, schools and even favourite football teams! We came to realize that we really did have common ground with these students despite living on another continent: They valued equally their education and really just wanted to maximize their potential to succeed in the future, the same as we did.
We collaborated with the Young Enterprise team that I was part of at the time, and so our promotional T-shirt made an appearance on the Young Enterprise Facebook page and website. In Young Enterprise, we form a miniature company and choose a product to produce: We had chosen organic T-shirts, and so we jointly came up with a design that incorporated the flag and national motto of Sierra Leone to raise awareness of the cause. This would not have come about without the co-operation of both teams.
Why did you want to be an IB student?
I really loved the ethos and rigour of the IB: Its focus on independent thinking and the equal value it placed on a range of disciplines made it stand out as the best qualification for me to become a better all-round thinker. I felt that the skills I could learn on the IB would be indispensible, regardless of what I planned to do later in life. One thing I didn't anticipate, however, was how much I would be able to learn from the motivated and passionate individuals I would work with every day on the IB. I have become much more rounded and open-minded from my experiences on the IB, and I would love for it to be an option for more students in the UK.
Are you going to attend St. John's College, Oxford? If so, when do you start?
I have accepted my offer from St John's College, Oxford, to study philosophy, politics and economics, and I plan to go there, provided I meet my offer in terms of my IB point score. Hopefully, I will start in October!