In the article "On Top of the World," published by the The Western Weekender recent IB graduate Veronica Mitchell, described her IB experience as a journey:
It isn't a journey that you can do on your own. It involves support from your friends, your parents and your teachers. The IB Diploma isn't competitive like the HSC, so as students we are all in it together. The great results we have achieved can be attributed to the great academic and emotional support by our teachers, as well as our friends and family.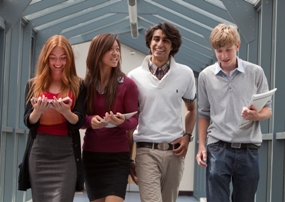 Earlier this week, more than six thousand IB diploma and certificate graduates received their results from the November examination session. While students in the northern hemisphere were getting ready for the second half of the school year – those in the southern hemisphere had been eagerly awaiting their results as they prepared to take the next step in their academic careers.
The achievements of these students were recognized in announcements around the world. In the Asia-Pacific region, 3,360 students received results. Newspapers in Australia and Singapore congratulated their country's cohort on their great success, as well as the work put in to TOK, CAS, and the extended essay on the road to earning their IB diploma or certificates. On the other side of the globe in Latin America, 2,787 students received results with 44 achieving a near perfect score.
In 2013, IB diploma students averaged a total of 29.95 points on their exams with 221 achieving a perfect 45. The average pass rate for all regions was around 80%.
Congratulations to all 2013 candidates from both November and May for their success over the course of the year. We welcome you to share your experience during this year's exam session. Send your story to us through the IB Alumni Network.