This article originally appeared in IB Global News, which provides an array of news and information about IB programmes, professional development and research.
---
In the heart of historic downtown Boston, USA, in a building that originally served as the Abraham Lincoln School, the Josiah Quincy Upper School is enjoying something of a renaissance as an IB World School, serving 523 students who live in the surrounding area.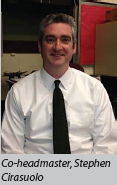 The school is named after Josiah Quincy, a Revolutionary-era leader and patriarch whose family helped shape social and political life in Massachusetts. The family also produced three mayors of Boston and a Harvard University president. The building has played host to several schools over the last century–with the latest incarnation beginning in 2000 with the Quincy Elementary and Quincy Upper School K-12 pathway and a goal of becoming an IB World School.
Authorization for the Diploma Programme occurred in 2010. Authorization for the Middle Years Programme occurred the following year. A state-run public school, there are no entry requirements to attend Josiah Quincy Upper School, though students who attend Quincy Elementary School are guaranteed a place in the Middle Years Programme when they ascend to grade six. As an urban school, Quincy Upper has a diverse student body: 60 percent Asian American, 25 percent African American, 15 percent Hispanic or Caucasian.
Co-headmaster Stephen Cirasuolo spoke to IB Global News about how Josiah Quincy Upper School is breaking boundaries, becoming an inspirational model and informational resource for other schools, and overall, becoming a community centrepiece for excellence.
Why did you choose to run IB programmes exclusively?
It's really important for us to have every single student in the school inthe IB, whether in the Middle Years Programme (MYP) or the Diploma Programme. We want every student to receive the same level of rigor and to prepare for the Diploma Programme. We need the MYP to do so. It's essential to have the seven-year pathway for all our students
What have you found in the IB programmes to be essential?
With only two IB graduating classes [so far], we didn't expect [academic] results to be as dramatic as they have been. Over 60 percent of the students who took exams—and 90 percent of students took them in total—received a four or higher on at least one of the assessments. This means that 60 percent of our students are going to college with the ability to have earned credit before they start their university work. Nothing says more about college readiness than 'you have achieved three or four credits for your work'. Prior to this, we offered AP and other types of classes but we never came anywhere close to 60 percent of our students receiving college credit.
As a school in Boston, there is a lot of focus on college readiness. [This achievement] has been very transformative for our students.
Are there other ways that the IB has enriched your community?
The IB has given us a great opportunity to bond with our community's families around learning—around something powerful for our students. Seeing results so early has really reinforced the IB message. We've attracted a lot of attention from the district, to spread the IB throughout the district. A number of schools have reached out to us to learn more about the [authorization] process. Schools from around the world have come to visit us to learn about the IB programmes we offer. It's been an exciting process. It's added to our students' experience—that they are meeting people from around the world—something they never thought would happen. It's all part of being in the IB community.
Now that you have distinctive IB cohorts in your school, how would you say being a two-programme IB school affects students?
We are looking to be a transformative school that kids want to stay in. In the past, we recognized "left behind kids"—primarily those in seventh grade [MYP Year 2]. Having a 6–12 school is a big part of [the transformative process]—keeping the kids together. We're looking forward to the MYP eAssessment, too, because it's important to have that data for future
learning success.
Meet other IB leaders at Josiah Quincy Upper School
DP math teacher Kristina Buenafe describes how MYP strengthens DP students and contributes to building a culture of learning at Josiah Quincy Upper School, Boston.
Watch here
[vimeo 84659615]
MYP Theatre teacher and DP Humanities/Arts team leader Nathan Seavey articulates the value of an international education in Boston.
Watch here
[vimeo 84659616]