This article originally appeared in IB Global News, which provides an array of news and information about IB programmes, professional development and research.
---
Shane Ross is a PYP teacher at Gyeonggi Suwon International School in South Korea. The school is one of two schools in Korea that offer the IB Continuum. Shane tells us what it is like to work at his first IB World School.
How would you describe the culture of your school?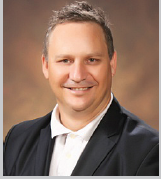 When I first arrived at GSIS I was struck by the smiles of the other staff, and how helpful they were. I remember getting into the elevator at school on the way to my interview and I could feel the positive energy in the elevator with me. I thought, "They are happy to be teachers here". I wanted to be part of GSIS. We are a Christian school and it feels like a family. In my first year, amazing teachers supported me and I learned so much from them. We definitely have a collaborative environment so I am continually sharing ideas and getting feedback.
This support and collaboration extends throughout our school. As a PYP teacher, I often work with teachers of the MYP and DP in upper grades in connection with my units of inquiry. For example, resources and knowledge from mathematics and science teachers in upper grades have helped shaped my own work. My students visit the science lab as part of "How The World Works" and teachers have visited my class to share literature for "How We Express Ourselves".
What are some of the challenges faced by IB teachers in South Korea and how do you overcome them?
Staff turnover is probably a universal challenge for international schools, but the culture of this school goes a long way to overcoming the difficulties of staff who are adjusting to a new culture and curriculum. The supportive, family-like culture of GSIS is what makes it special and helps new staff adjust.
As far as the IB is concerned, and the PYP, we can sometimes feel resistance from parents in relation to things like the lack of textbooks. Parents may only have experience and understanding of a learning style that is teacher driven, but this is easily overcome once parents see and feel how engaged their children are with their own learning
How does teaching the IB compare with your previous teaching experience?
I really enjoy the freedom that comes with teaching the PYP. I am a risk-taker and I will let students experience things rather than just read about it. Why not experience something, connect with it, live it and then talk and write about it yourself? I find that teaching the PYP has made me step back and give more control to students. The focus is more on what interests the students rather than what other people mandate.
As a teacher, it takes creativity and the ability to share ideas and ask for help. Our school has great ICT (Information and Communications Technology) which is an advantage as well.
What is your favourite part of teaching the PYP?
I love when students make connections between units and can see that what they do at school is relevant in the real world. The best thing is that I know I can provide students with learning experiences that they will never forget.