This article originally appeared in IB Global News, which provides an array of news and information about IB programmes, professional development and research.
---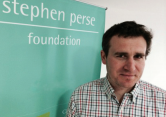 Teaching the IB Diploma Programme at the Stephen Perse Foundation has lifted the lid on my teaching and given me and my students the freedom to explore the farthest flung corners of le monde francophone. Previously, I had quite a cautious teaching style, but now there is an element of adventure and risk in every task.
I teach Theory of Knowledge (TOK) as well as French and it is always rewarding to bring in TOK-style questions to French lessons. The students surprise themselves with the level of French they can produce in our sessions.
What do you find the most rewarding about the role?
Being an IB teacher means you get to know your students better than teaching another programme that has more emphasis on linear thinking and stickle-brick style (sic) assessment. I hear about what the students are doing in CAS and the EE and so I see the whole student sitting in front of me, rather than merely the bit of the student that does my subject.
Describe three fascinating things about teaching at Stephen Perse Foundation?
This is a very special school and it is a privilege to work here. First, we are at the razor's edge of technological innovation—we are a 1-to-1 iPad school and have fantastic learning website that we use for professional development, this showcases thinking on teaching and learning and gives practical examples. Our current projects include the development of iTunes U units to support our students' learning. Secondly, the Foundation has recently grown to six schools, arranged in a 'diamond' formation, with more changes coming soon—it is a dynamic institution. We only have the DP in our sixth form but the influence on our educational approach in the junior years is substantial. Thirdly, we have an eclectic mixture of students and staff, with different backgrounds and viewpoints, which makes for a sizzling academic environment.
How do you make use of the school's connections with hi-tech businesses in the area?
We are lucky to have links with local businesses in The Cambridge Science Park and the broader area known as Silicon Fen. It has a mind-boggling range of software, electronics and biotech firms. Our connections have spawned an array of clubs, we run an 'Inspire Me' programme to open the eyes of students (and parents!) to a world of entrepreneurship and creativity. The attitude they develop comes into lessons—put simply, our students don't limit their aspirations.