This article originally appeared in IB Global News, which provides an array of news and information about IB programmes, professional development and research.
---

Tates Creek Middle School (TCMS) is located in Lexington, Kentucky, USA and has been an authorized IB World School since August 2010. Marie Conger, the school's MYP Coordinator, proudly tells us about the school's recent transformation.
Name the top five things about TCMS to share with IB World Schools around the globe?
1. Six years ago, we had an enrolment of 500 students and were considered one of the worst middle schools in the district.
2. This year, our enrolment is close to 1,000 students and people keep asking how to enrol their "out-of-area" children!
3. We were the first MYP school in Kentucky and, this year, two Louisville schools joined us.
4. We are the only school in Kentucky that does standards/MYP criterion based grading.
5. Through the development of our mother tongue support program, "Communicators Clubs", we have identified more than 100 non-English mother tongue students speaking more than 12 languages.
Describe the culture at TCMS.
We are diverse in every way and we love it! Becoming an IB World School has helped us to create a culture of acceptance and tolerance that fosters lifelong learning and believes in the power of every individual to make a difference.
What excites you most about the MYP curriculum changes?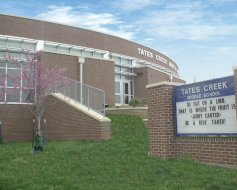 We are really excited about the shift from Areas of Interaction to Global Contexts. We feel that this will have a huge impact on teaching and learning and make concepts and content more accessible and interesting to students. Our "next steps action plan" includes IB authorized training in all subject areas over the next two years. It also ensures that all our MYP teachers have the information and support they need to adapt to the changes.
How does TCMS have an impact on the local community?
TCMS is a fine example of offering a world class education in a local neighbourhood, public school. We call ourselves the Tates Creek Titans – this includes the students, teachers, sports teams… everyone. We give back to the community through various service projects,such as: "Titans Take Down Trash Day" – a school-wide service day where we clean up our neighborhoods; and Titans Caring for Titans (TC4T) – a food drive to try and ensure that all our Titan families have plenty of healthy food during the breaks from school.