---
Proudly telling the world about #generationIB in our 50th anniversary year
---
Judith Joan Walker completed the full IB curriculum—Primary Years Programme (PYP), Middle Years Programme (MYP) and Diploma Programme (DP)—in IB World Schools in Thailand, Vietnam and China. She went on to study film and film production in Australia and has now joined forces with her parents and brother to grow their family business; a social entrepreneurial venture, African Clean Energy (ACE) that makes smokeless stoves with a goal to save millions of lives. Read on to find out how.
---
Update: Judith was named young entrepreneur of the week by the Huffington Post!
---
Tell us about ACE
ACE is a small family business that manufactures clean energy, smokeless stoves to tackle the far-reaching problems caused by cooking on open fires. I was staggered to learn that three billion people worldwide are cooking on open fires, or using dirty and dangerous fuel. This has a huge impact on health, with an estimated four million people dying from indoor cook smoke each year. This is more than HIV/AIDS and malaria combined. It is a problem that is widely unknown and entirely preventable. The majority of the people affected are women and children living in developing countries who die prematurely from illness caused by excessive smoke inhalation. Many children are also using the light from the fires to study during the hours of darkness, exposing them further to the risk of smoke inhalation.
Describe your role in the company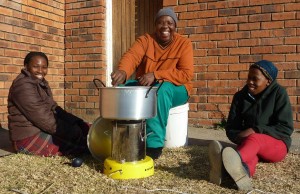 I coordinate our company's global media campaigns from my home in London, UK. My brother Ruben is the social entrepreneur of the family (he is also DP graduate of Nanjing International School, in China) and oversees the business from Amsterdam, Netherlands. My parents are "on the ground" at the factory and distribution centre in Maseru.
When I took the opportunity to become active in the business, I knew I was going to be a valuable addition to the team and decided to devote myself to the promotional campaign full time. I was able to put my experience in film and film production to good use, and take advantage of the connections I had developed. That's something I can link back to my IB experience – a willingness to ask your entire global network for support, something that we were encouraged to do at school. The social aspect of the business has always been something I wanted to pursue. I work mostly on networking and outreach, and am looking at doing a few charity events in the coming months as well. It's exciting times for us!
What other learning experiences have contributed to your current work?
At school we were always encouraged to start our own projects to support local charities or organisations. This ranged from things like bake-sales with my girl scouts troop (under the guidance of the wonderful Karen Orteza) or Christmas Wish-Trees for the local Chinese orphanage, to creating my own mural about respect for other cultures and people, for my MYP personal project. The great thing about doing the personal project in the MYP and Creativity Action Service (CAS) in the DP was that we were always encouraged to take part in a wide range of activities and also find a way of combining them. This led to an ingrained understanding that doing good and having fun are not mutually exclusive. That's how I feel about what I'm doing now, I love working with my family to grow a beautiful company, and at the same time we have the potential to make a real difference in the world.


What advice would you give to current DP students?
When I finished school I didn't understand that I would spend far longer developing myself and my career than the years that I'd lived to that point. There is a lot of pressure to leave school and decide what to study or what work path to follow. But those choices are not permanent. I went on to study fashion design, makeup, hair dressing and many short courses along the way that all led to working in the film industry. This led to my role as a film producer, which led me back to my family business, making smokeless stoves to save the world. I would advise current DP students that they will continue to make decisions throughout their life that will shape their path ahead; they decide which way it turns.
Also I want to remind them that they can be very successful in life by being socially and environmentally ethical, every step of the way. We live in a world that idolises the rich and famous, but it's important that students know that they can do well and be a success without compromising on ethics and social responsibility. My brother said it best, "Doing well by doing good."
The confidence and independence that the IB imprinted on me is what has kept me strong in believing that nothing is impossible; you can set out to do anything and end up anywhere. We are encouraged to grow into compassionate people. The world is a very small place to me, the multi-cultural environment of all my schools enabled me to relate and explore both local problems and global issues.

Aside from being a family business, why is African Clean Energy so important to you?
I have been learning about the scale of impact our product, the ACE 1 Ultra Clean Biomass Stove, can have on the world and the people in it. The question is, "Why isn't this issue more important to everyone?" The fact that so many people die from kitchen smoke inhalation is truly shocking and I haven't even started talking here about the environmental impact of current open fire cooking methods. It's sometimes easy to forget that we all live on the same planet. We all have a finite amount of space, resources and air to share between us. I have been given the most amazing opportunity to make a difference, and I get to do it together with my family. What could be better than that?
---
You can learn more about African Clean Energy and support their project at www.africancleanenergy.com