As Middle Years Programme (MYP) educators prepare to implement some updates to the programme's personal project, we spoke to Angela Johnson to see how the changes are taking shape in her school. 
MYP personal project
Here at Southbank International School, the MYP personal project plays a very important part within our school's culture, and not just in the context of the MYP. Over the past few years, we aimed to raise its profile in order to highlight its significance at the heart of the IB curriculum.
We formally introduce students to the personal project in the last couple of months of their school year in Grade 9 (MYP year 4). We run a series of workshops focusing on selecting a topic, defining a goal and choosing a global context. Some Grade 10 students (MYP year 5) join the workshops to give their views on the process, including what they learned and tips for success. We also find that encouraging students to use the summer break between Grade 9 and 10—perhaps taking advantage of resources in their home countries or connections they make while travelling—helps them to get a head start on the project.

The personal project exhibition takes place midway through Grade 10 and is a great way to see the culmination of many months of hard work by the students and their supervisors. Each year, they display a range of unique projects to fellow students, parents, staff, and other invited guests to celebrate their achievements. Grade 9 students get an initiation, of sorts, by attending the Grade 10's exhibition and are encouraged to fill out a reflective survey after the event. Some of them even produce a video of the exhibition to show at our end of term Town Meeting, which further involves them in the personal project process.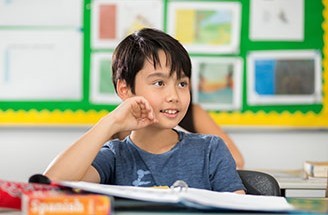 But it doesn't just start in grade 9. We also invite Grade 5 students from our primary campuses to visit the exhibition. This gives them a taste for the next milestone in their IB journey before beginning their preparations for the Primary Years Programme (PYP) exhibition, an event which takes place later in the year.
MYP community project
This year, we decided to pilot a "mentoring programme" for the Grade 8 students' MYP community project. Once the Grade 10 mentors had completed their personal projects, they offered advice to the Grade 8 students in two structured sessions devoted to time-management and presentation techniques. I was thrilled to see the mentors showing further support for the Grade 8 students by attending their community project presentations – their support further strengthened the sense of community within the school and emphasised the progression between projects.
As a three-programme school, our goal is to ensure that our students are equipped with the skills needed to eventually tackle the extended essay in the Diploma Programme (DP). Celebrating the stages that lead to that point is a very important part of the journey towards success.
---
Angela is Head of English Faculty and former MYP Projects Coordinator at Southbank International School, London, UK.
Schools and educators who would like to submit an article for the IB community blog can get in touch with us by email: communications@ibo.org
---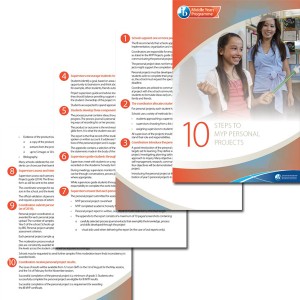 As the first deadline approaches on 20 October 2015 for the registration of MYP candidates for personal project moderation in 2016, we are designing a leaflet to help schools through Ten steps to MYP personal projects and have outlined a timeline of relevant deadlines too. While we are finalising the leaflet, here's (see right) what it will look like so you know what to look out for. 
Find out more about MYP projects here.