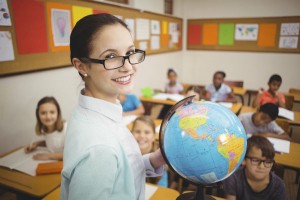 IB World magazine investigates the ways in which IB World Schools have integrated a successful Mother Tongue (MT) programme, and offers tips to help schools set up their own
Across the world, there is a general consensus among educators that learning in your mother tongue stimulates cognitive, academic and social growth in children.
Research has found that children who begin school in their mother tongue tend to develop more flexibility in their thinking compared to their monolingual peers. At home, parents are more likely to communicate with teachers and participate in their child's learning.
Furthermore, a child's ability to learn an additional language greatly improves if their first language skills are well developed, according to studies. This is a point that poet and language advocate Suzanne Talhouk raised during her 2010 TED talk, 'Don't kill your language'. She said: "Mastery of other languages requires mastery of the mother tongue. Mastery of the mother tongue is a prerequisite for creative expression in other languages."
However, there is a difference between social and academic language acquisition. Professor Jim Cummins coined the acronyms BICS (Basic Interpersonal Communication Skills), the language skills needed in social situations, and CALP (Cognitive Academic Language Proficiency), which refers to formal academic learning. It usually takes five to seven years for students to master CALP, according to Cummins.
Problems can arise if students appear fully proficient and fluent in a social situation (BICS), as they could struggle academically (CALP).
The IB supports and advocates the importance of learning in the mother tongue, encouraging all students to study their mother tongue "wherever possible". However, individual schools can decide how they will practically support the maintenance and development of native languages.
Supporting students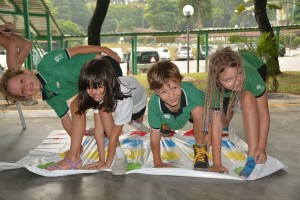 Over the past 10 years, The German European School of Singapore (GESS) has integrated a Mother Tongue (MT) programme into its IB curriculum. Up to 50 per cent graduate with a bilingual diploma. This model was developed in partnership with what is now LanguageOne, an organisation originally created to offer full language and culture support to the Dutch overseas community, and now offering mother tongue tuition for other languages as well.
"What started as a small idea at GESS has now become a pillar of the school's ethos, and an integral part of our approach to teaching and learning," says Iain Fish, former Head of the European Section (EuroSec) at GESS.
Teachers and the school leadership team have noticed that students have developed socially, culturally and academically. Eowyn Crisfield, an educational adviser specializing in bilingualism/MT in schools, who has worked with GESS as an external adviser, says students are also more confident in their communication, and their knowledge of the world has increased. "Learning in mother tongue builds their characters as world citizens," she says. "In everyday life, this means they are more tolerant of one another, more likely to take risks in using their languages and take pride in who they are."
According to Fish, since increased support for mother tongue, DP scores have improved year-on-year.
Crisfield adds: "An MT programme is the right thing to do from a pedagogical perspective. More importantly, an integrated MT programme sends a clear message to students that who they are and where they come from is important to the school, and for their own future. It's time to move beyond 'teaching English as an additional language' and move towards nurturing the linguistic and cultural foundations of all students."
Younger learners
Today, GESS offers a programme that allows students to follow almost any language. The primary section has been offering mother tongue programming for Danish and Dutch, and is  currently debuting a new language enrichment (LEP) programme . This will provide integrated, institutional support for students through fun activities at no extra cost.
 "We are very firm about this not being curriculum-based but activity-based," says Sarah Thomas, Head of EuroSec Primary. Students use and extend their linguistic knowledge through fun activities, such as games, song, stories, and arts and crafts."
Thomas says the whole idea of the Language Enrichment Programme is to help validate students' sense of identity and heritage: "Intended or not, the message is that classrooms are English-only environments. We don't want to communicate to students that they need to leave their diverse identities and languages at the classroom door.
"We want our students to bring their whole selves to class, where all their cultural and linguistic knowledge will be valued, so that they, in turn, can value their own emerging, complex identities. This makes for well-adjusted children and, as research tells us, it pays dividends in academic success too."
How to set up an MT programme
The question facing many IB World Schools is how to set up and implement a successful MT programme. Mattie Jackson, Mother Tongue Coordinator at Chatsworth International School (Orchard Campus) in Singapore, has run a programme for DP students for six years and began a course for MYP students last year, which represents 14 languages.
"In high school, our students study their mother tongue in DP School Supported Self-taught (SSST) classes. Guided by IB-developed materials, students independently learn their native language even if nobody at their school speaks it. Some students also write the Extended Essay in their home language," says Jackson. "In primary school, teachers encourage students to use their mother tongue whenever possible, such as in group work and play-based activities."
Since the introduction of the programmes, Jackson has noticed positive changes: "We have built a community where students feel valued and they celebrate it," she says. "Students feel a sense of pride when their language is being recognized in an English-speaking school."
Below, Jackson shares six points that are equally important and necessary for an effective MT programme:
Check the signage
Is English the only language on noticeboards, signs and banners around the school? The identity of mother tongue language learners should be supported through visual and cultural images. A warm 'welcome' in all the languages representative of the school should be on display to build a sense of belonging for all students.
Attend conferences
If curriculum coordinators and school administrators understand the value and importance of a MT programme they can encourage other teachers, too. And attending multilingual conferences provides perfect opportunities for acquiring effective strategies.
Professional development should be encouraged for all subject teachers. It's central to the IB's philosophy that all teachers are language teachers and responsible for the language development of students. It's important to always be aware of the CALP and BICS concepts mentioned earlier. CALP is essential for students to succeed academically.
Encourage students in all lessons
When it comes to the science or mathematics classroom, encourage students to use their own language to translate key concepts and vocabulary. For a better understanding, also encourage students to conduct research and some types of formative assessment in their mother tongue language.
Involve parents
Holding information sessions will help parents understand the cognitive and academic research that supports learning in the mother tongue. Additive bilingualism – acquiring one language while maintaining another – should be encouraged by parents.
Don't forget the books
School libraries should hold books that reflect the rich diversity of students. One way is to purchase popular literature translated into the languages represented in the school, or ask parents to suggest literature suitable for all ages – they may also donate reading material.
Employ a Mother Tongue Coordinator
This role sends a strong message to the school community of the value placed on mother tongue language learning. The MT Coordinator has numerous responsibilities, including sourcing competent tutors; developing a rigorous programme; ensuring tutors maintain high standards of instruction; and training tutors to ensure the assessment criteria and the course material are appropriately covered.
It's worth it
"The benefits of providing a rigorous MT programme far outweigh the challenges of setting one up," says Jackson.
And school size shouldn't be a barrier. "We are a small school by Singapore international school standards, yet we have 50 nationalities represented across the school," adds Jackson.
"Let's not forget that the cornerstone of a student's identity and sense of belonging relies on their knowledge and use of their mother tongue language."
Tell us about your Mother Tongue (MT) programme. Email: editor@ibo.org