Does your classroom encourage creativity, or stifle it? IB World magazine investigates how a student's environment affects their learning
Classroom design is about more than colourful walls, polished desks and stylish furniture. A University of Salford study of more than 3,000 students discovered that a "well-designed classroom" has a substantial impact on learning. The effect may be most profound among PYP and MYP-age students, though the principles of good design are applicable across all ages.
In addition to good lighting, air quality, temperature and sound, researchers found that outdoor space can stimulate a range of different developmental areas: as well as encouraging social skills including empathy, it may positively affect cognitive and physical development.
Student input is important, too. The study identified a sense of ownership as one of the top three influencing factors of classroom design. When students feel ownership of the classroom, through displays of their work, this can lead to greater participation and involvement in the learning process.
Colourful environments have significant effects on learning and wellbeing, according to the study. Plain surroundings tend to under-stimulate students, which can lead to restlessness and difficulty concentrating. Over-use of very bright colours, however, can also negatively impact learning, so it's important to strike a balance in terms of visual complexity.
Goodbye, rows of desks!
Three years ago, a professional development conference inspired Adam Turner, a PYP teacher at Prairie Waters Elementary School, Canada, to transform his classroom. Where previously students sat at rows of desks, they now sit in groups at large tables, or on a carpeted area with cushions and two comfortable chairs, depending on discussions. "Our discussions are much more enriching," says Turner. "More often, students don't sit at their desks."
Meanwhile, Ben Toettcher, Director of educational company Skola Group, based the classroom design of Newland College, UK, on a Harkness-inspired round-table set-up. Desks with seating for 14 MYP students are arranged in an ellipse – or oval shape – with a console in the middle, similar to a boardroom. Teachers can switch between direct instruction, using the console, and whole class discussions.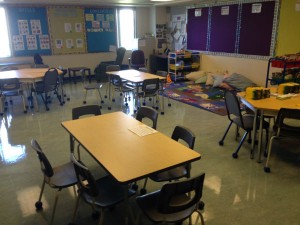 "The main feedback we get from students is that they feel they are heard," says Toettcher. "Since we opened the school at the start of September this year, certain students have become visibly more confident. Parents are especially happy that, with this set-up, it is impossible for their children to feel lost in a class and disengaged."
Asking the students
Harnoop Bhogal, PYP Coordinator, and Olivia Shilvock, PYP teacher, both at the International School of Siena in Italy, have asked their grade 5 class to redesign their classroom for a unit on identity and learning styles.
To see how they learn best for different activities, the room has been sectioned into different zones, including a daylight area; a comfortable seating area with clipboards; a personal display space where the students can add objects throughout the unit; a music station with headphones; and a mathematics area, which is sometimes split to include a science area.
"The students have shown a very sensible approach to the new space," says Shilvock. "I did think that they would all want to sit on the cushions and fight over the headphones but they are already showing different preferences and making suggestions. Some went straight for the mathematics area and started to 'play' with the items there, some went straight to the light area and said they loved it, some went for the music. It was a lovely reaction."
But careful consideration has to be given to the display of certain objects. A study led by the University of Washington discovered that symbolic objects can reinforce gender stereotypes and can cause diversity and inclusivity difficulties. For example, researchers suggested that prominently displaying pictures of past US presidents – who are uniformly white and male – represented a negative stereotype for females and minorities.
Resisting change
Although change is exciting, it isn't always easy.
There is an adjustment period at the beginning of each year, says Turner. Not having a designated storage spot at their desk or a set seat each day is a shock for many new students.
But, as they become accustomed to their environment, students question how they learn best. "Most students gain a better understanding of when is a good time to sit in groups and work or when they need to focus on their own and find a quiet spot," says Turner. "We reflect on which subjects and learning times are best in big groups at a table, and which are best in their own individual realm."
Flexibility must be a key design requirement within school builds, according to the University of Salford study. Classrooms with clear breakout zones were found to have a positive impact on learning. But separate zones, away from the classroom, appear to be ineffective.
Turner rearranges his classroom depending on the lesson. "The large tables allow students to work in groups with ample room, as well as act as good 'staging areas' for sharing work. If we need a large space to convene for class discussions and activities, the tables are easy to move," he explains.
"When students recently shared their mid-unit assessment, we made a 'circle' of the tables – presenters on the inside, observers around the outside."
Teachers no longer feel they are tied to a one-size-fits-all classroom. For many, the traditional row of tables facing a chalkboard is no longer fit for purpose. As well as looking creative, comfy seats on a colourful carpet might be the beginning of a more collaborative way of working.
Tell us how you've changed your classroom and how this has impacted your students' learning: email editor@ibo.org