---
Proudly telling the world about #generationIB in our 50th anniversary year
---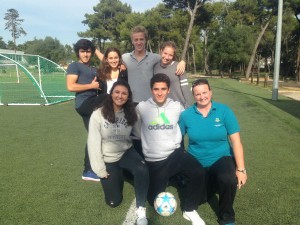 IB World magazine investigates how physical education can incorporate the disciplines of science, making it even more stimulating and relevant to everyday lives
There are misconceptions about physical education (PE) and its importance. Some believe that it's unnecessary and doesn't constitute learning. But the benefits of PE go far beyond fitness as numerous studies demonstrate – it can lead to improved academic performance, increased concentration and help relieve stress.
PE can also help students explore scientific solutions to global questions, influencing real change in their communities. The IB Diploma Programme's Sports, Exercise and Health Science (SEHS) course incorporates the disciplines of anatomy and physiology, biomechanics, psychology and nutrition. Students, who have a passion for sport, can acquire the knowledge and understanding necessary to apply scientific principles and critically analyse and evaluate human performance.
"This is a valuable asset for any university course if they are considering studying sports science at university," says Denise Stevenson, Head of SEHS, at United World College of South East Asia (Dover), Singapore.  "A key difference from other advanced courses I have taught is that students through inquiry of their own study design are able to deepen their understanding of the world by developing scientific investigative skills, which has placed them ahead of their peers as they begin their studies at university."
Graeme Anderson, DP Curriculum Manager for physics and mathematics, and Acting DP Curriculum Manager for SEHS, adds: "The SEHS helps students understand, from a scientific perspective, the benefits of exercise and enables them to evaluate different claims made in the media and beyond about the value of physical exercise."
Ethical debates
UWCSEA students address ethical dilemmas and engage in many active debates on issues as part of the course, such as 'Is it ethical for all athletes to have the option to take performance-enhancing drugs?' 'Should special equipment that enhances performance (such as swimsuits and spikes) be deemed as 'technological doping'?' 'Is it ethical for a USA sports coach to lie about an athlete's grades?'
As with all IB courses, international mindedness is at the centre. When discussing nutrition, for example, students at St Julian's International School, Portugal, are encouraged to explore how recommended diets differ not only between athletes but from country to country.
SEHS students regularly represent their teams locally and abroad, too. "They have developed skills to interact within diverse cultures, languages and beliefs," says Head of PE Maxine Small.
This led to wider community actions, and students use sport to engage young people in the local community.
Just like any other DP course, SEHS is rigorous. But, because it's an applied course, Anderson believes it makes learning highly relevant and motivating to students. "When they see that the learning has a direct link to their personal wellbeing, they better understand why they are learning," he says.
Next level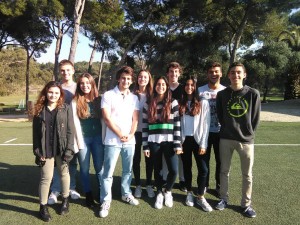 Later this year, SEHS will be available as a higher level (HL) course. "Feedback from schools sent a strong message that students wanted to study this course at a higher level," says Anderson. "Not only because they participated in sport themselves, but also because they found the course stimulating and relevant to their everyday lives."
Students may opt for the HL course to pursue a sports career or to better understand their own physical and psychological wellbeing. It has added topics that broaden the subject and help students understand performance at an elite level.
Both Small and Stevenson are members of the HL curriculum team and were involved in developing the new SEHS guide. "We felt that the most important issue was the alignment of the SEHS with the other sciences at HL in Group 4," says Small. "We were also conscious of how the HL SEHS was going to be perceived by universities as a prerequisite to courses such as sport science, sport studies, sport development, physiotherapy, nursing and sports management.
"We wrote the guide to enable students to gain knowledge and understanding which would be applicable and relevant to these degrees."
This course helps students develop an understanding of the science behind sports, exercise and health. It's hoped that endorsement from universities will further reassure students, parents and schools of the importance of physical education, and maintaining a healthy and active lifestyle.
Holistic education
Student wellbeing extends far beyond physical education classes. It's a responsibility for every teacher, as well as every member of the community, believes Stevenson, and a holistic approach is needed: "School programmes must be holistic and support students' growth as they develop the knowledge, understanding, key skills and qualities to flourish in a challenging wider world."
"In my experience, attributes such as grit, growth mindset, and hope and optimism are often overlooked when developing the skills and qualities that our students need," she adds. 
What are your expectations about the new HL SEHS course? Let us know, email editor@ibo.org