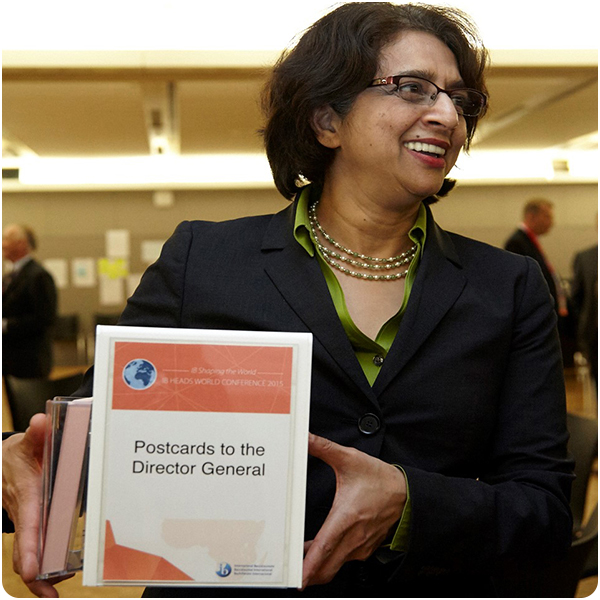 In November 2015, heads of IB World Schools were encouraged to write their burning questions on a postcard to the Director General at the IB Heads World Conference. It was a simple and efficient way to gauge the scope of issues that matter to IB heads. Director General Siva Kumari received many interesting and diverse questions and has provided responses that may help you find answers to your burning questions too.
Attendees at the 2015 IB Heads World Conference submitted over 100 Postcards to the DG with their burning questions about the IB. Dr Siva Kumari has categorized the questions and responded to all:
Click on each of the tabs below to read the questions and answers.
Heads conference / council
Would it be possible for the IB to organize regional Heads Conferences, to solve specific problems faced by schools in the region, or issues they care about?
Each IB region has its own annual regional conference with sessions relevant to the region. The heads conference has a global context and is organized by the Heads Council. Feedback and suggestions for conference sessions can be shared through your Regional Council or the Heads Council, respectively. This is also my suggestion to the head who asked about creating stronger networks of continuum schools and organizing global continuum school sessions – get in touch with your Regional Council or the Heads Council and they will take it from there.
Where are the women heads? Where are the non-white, non-English leaders on the Heads Council? How are we developing a pipeline of more diverse focus of leaders in the IB?
As the first female Director General of the IB, I fully share your desire for gender and racial diversity. I will be pursuing this with the Heads Council. It is fundamental to our Mission, and I know it concerns many of you within our community: several heads mentioned this in their questions to me.
How do we participate in/contribute to the strategic plan of the IB?
We really welcome and benefit from your participation. Again, this is a key function of the Heads Council, which serves as an advisory group to the Director General. We also have the Regional Councils, which serve as strategic advisory boards for each of the IB's three regional directors. The chairs of each Council are always more than happy to have input from heads. Details are available here.
The IB seems "Northern Hemisphere-centric". How far are Southern Hemisphere issues considered?
The Heads Council is tasked with representing all regions of the IB community and I will raise this with them to make sure we achieve full geographic representation. The key to this happening, though, is for heads to be nominated as candidates to the council when the call for candidates is made in August each year.
How can Africa be represented on the Heads Council? We are ready to volunteer.
That's great and since this question was submitted a head located in Uganda has been elected to the Heads Council. Members are elected by IB World School heads, with four members from each IB region. Calls for nominations to the Heads Council are issued by the chair. We will ensure you are contacted at the appropriate time. We also recently welcomed two new members to the AEM Regional Council who are located in Africa. The AEM Regional Council will devote a substantial amount of its next agenda to discussing a strategy for Africa.
There were very few mentions of Africa and the Middle East at the regional conference. Why is the IB failing its own standard for international-mindedness?
We always try to have representation from all parts of the regions when we select our speakers, and the Heads Council is always involved in speaker selection. But we don't always succeed in getting it right. Several negotiations fell through that would have given us greater diversity. This is something we are well aware of, and we will continue to try to find diversity among the speakers – in fact, in this connection, any suggestions for speakers from heads is much appreciated.
The IB regional office has been and continues to be open to holding conferences in Africa and the Middle East although it has not been feasible recently; many factors go into the decision including accessibility, cost, venue size, safety, etc. Though we have held two symposia in Africa for IB World Schools.
There is a large group of Latin American schools that want to make an association that meets our income and our problems. Will the IB support this?
The IB is very supportive of associations of IB World Schools and you should approach the regional team for the Americas – paul.campbell@ibo.org 
Can the IB recognize the needs of heads in the Southern Hemisphere concerning the timing of the Heads Conference?
The timing of conferences is always tricky, and this was the first time the Heads conference was organized alongside a regional conference. For logistical reasons, the Africa, Europe and Middle East regional conference dates couldn't be changed but we will certainly bear this in mind for future conferences. The next Heads Conference will be held concurrently with the Asia Pacific regional conference in March/April 2018.
Please provide us with a simple link that leads us to the names of all the participants and the PDFs for all the presentations.
The presentations can be found here. Lists of participants were made available at the event but for data protection reasons are not made public afterwards.

Strategy
Are there plans to bring back the IB as a leader and innovator of learning while maintaining the philosophy and values the IB started with? I feel I have seen a decline in the commitment to forward thinking and philosophy and values.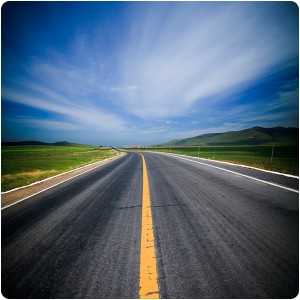 As Director General of the IB I am committed to our strategic vision for the next five years, which is fundamentally built around strengthening our position as a leading, worldwide provider of international education. In the strategy we state "It is time to re-focus on the mission of the IB" and furthermore "…we will pursue educational excellence by developing programmes inspired by contemporary research and thinking about teaching and learning." It is this commitment to engaging with the best educators in the world that will lead to the reinforcement of our philosophy and vision.
Could you ensure that marketing strategy and initiatives are communicated to schools, so that we can help communicate initiatives, tie in our own marketing initiatives and lobbying activities?
We have in the last year put in place a global marketing team tasked with coordinating marketing activities on a global basis, while recognizing regional and country-specific needs. We will ensure that our plans are duly communicated within the region to schools.
Can the IB ask the EU to give visas to non-EU citizens? It would be good for me to have teachers from abroad.
The IB fully supports the mobility of teachers around the world but as the IB does not employ the teachers it is difficult for us to influence government regulations on behalf of schools, and we have to comply with the same rules when we employ teachers at our IB Global Centres. However, if the opportunity presents itself we will advocate the benefits of teacher mobility.
How, if ever, can IB education reach the poor?
We will always want to make IB programmes accessible to as many students as we can, in line with our mission. Launching the CP programme beyond DP schools was one way of increasing access to an IB education, but there are other ways of achieving this. We're also looking at the development of more flexible ways of implementing IB programmes which could encourage a wider range of schools to become part of the IB community. We are also working hard to keep our costs down, so that we can look at the fees we charge schools. Another way that will give access to a truly wide range of schools is the project that we call the 'Agora'. This will enable the IB community (and beyond) to share resources, best practices and other learning materials. In the coming months we will be working with organizations that are highly experienced in this field, in order to refine our ideas for the project.
Is growth still a priority?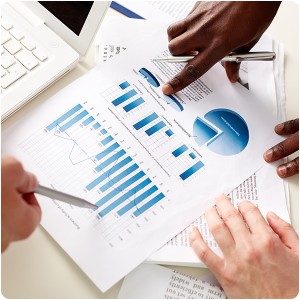 The IB is driven by our mission to create a better and more peaceful world through intercultural understanding and respect. The 2015-19 strategic vision focuses on setting highly relevant standards for student-centered education; creating and enabling a professional community of engaged IB teachers; providing flexibility to implement IB programmes; giving excellent service to the IB community and creating an IB to deliver its mission. All of this will lead to growth but it is not a priority. 
At what point will the IB saturate the market? How many schools are too many schools?
We will always want to make IB programmes accessible to as many students as we can, in line with our mission. I am not sure that we could ever saturate the market and I am willing to have that as a problem!
As the IB becomes more inclusive towards public and national schools, which often have more standardized curriculum and assessment requirements, will there still be a place in the IB for the unique, independent and often innovative international schools?
Very definitely, yes. The IB has always been a very diverse community and this is one of the great strengths that we must build on. We are committed to involving all parts of the IB community to ensure that all of our programmes are fit for purpose across our wide range of stakeholders. This is as true today as it was in 1968.
Is IB going to follow quality education principles presented by Pasi Sahlberg? What could the IB learn from the Finnish school system?
As I have previously said, we are committed to engaging with the best educators in the world as we continue to review and further develop our four programmes. We must all be inspired by contemporary research and thinking about teaching and learning. Pasi Sahlberg is one of the many people that we will continue to engage with.
Will Mandarin become an official IB working language?
We don't currently have plans to include Mandarin as a working language. If you're interested in finding out more about our language policy, you can read it here.
Primary Years Programme
 Mathematics is transdisciplinary in the PYP but some content needs to be taught as a single subject. Would you consider creating a 'hybrid' system for maths when maths could be taught by a maths specialist in Y3-5 to ensure high standards for maths teaching?
The PYP development team is looking at this. They are reviewing recent research conducted into transdisciplinarity in the PYP, along with the associated requirements. We encourage schools to map the mathematics curriculum into the programmes of inquiry (POI) and to consider the mathematics scope and sequence document as a guide for learning progression development and differentiation. Currently, the home-room teacher remains responsible for teaching the core subject areas. We anticipate that, through collaboration, high standards for mathematics teaching will be achieved.
Middle Years Programme
Introducing a three-year (MYP 1, 2 + 3) programme would enable GCSE to be delivered in Years 10+11.
A rule change related to school eligibility means greater access to the MYP and ability to combine it with local requirements. Schools need not implement all years offered; they may apply for candidacy using a two-, three-, four-, or five-year model. October 2016 is the application deadline for candidacy under this new rule. If this is of interest to you, please contact your regional office for more details.
Given the context of Dubai, and the UAE National Agenda 2021, how can we improve our measurement/assessment of progress with MYP?
MYP eAssessment will provide schools with an international benchmark to measure attainment. The specific requirements of individual countries are best discussed with the regional team.
Diploma Programme
Some of us involved with DP development don't see the IB as being truly strategic in its developments. The IB should not just tinker, such as changing the hexagon to a circle or 'action' to 'activity'              
Regular whole-programme reviews are undertaken and one is planned for the DP. The precise timelines and milestones of this review will depend entirely upon the outcome of the research which will be conducted in 2016 which in turn will inform the scope of the review. In preparation for this, the Academic team is leading a cross-functional effort within the IB to thoroughly examine the existing programme structure – while also considering options for increasing flexibility in the design and implementation of the programme, and its ongoing fidelity to the IB mission. Internal development will focus on creating proposals and hypotheses for a revised Diploma; these will be tested with a variety of IB stakeholders, including schools and universities, current students, alumni and parents, et al.
Have you considered making the DP a three-year programme (time is often the issue with delivery)?            
This is a good question for the upcoming full-programme review. We will pass it on for consideration to the Head of Diploma Programme Development.
I have made the study of a creative art compulsory up to age 16 in my school and have always found it difficult to accept that the Group 6 subjects in the DP are optional. Will the IB consider ways to make the study of a Group 6 subject more attractive, if not compulsory, for students?
Yet another good question for the upcoming full-programme review.
Will existing IB programme research be valid if the programme is changed?
A very good question and one that must be answered as part of the design of the Diploma Programme review. 
Online DP – why is the IB not looking at online education more broadly?        
The IB is committed to a digital strategy and will look at all aspects of digital technology and how it can benefit our community. Online, and the role it should play in the DP, will be a part of the full-programme review being designed at this time.
Can the students of other curriculum take out one or two IB courses via Pamoja? That would be very useful for Indian children.              
At present, enrolment is limited to Diploma Programme or Career-related Programme students attending IB World Schools.
Can you ensure compatibility for Higher Level DP mathematics with other Higher Level DP subjects? It is currently far more difficult and is a barrier to student recruitment.
Over the past year, we have worked with the authors of IB mathematics examinations to improve the question structure and accessibility of the higher level (HL) paper and Heads were informed by email in February 2016 of the actions we have taken. You may also be interested in this new research study published in February on DP students' mathematical readiness for university studies.
Would you validate our Bridge programme (3 months) that equips our students with no background of the IB to attempt the DP programme?
While we applaud the effort to help students prepare for the Diploma Programme, and truly appreciate the intent, we cannot validate programmes over which we have no control or input. This is why we recommend the MYP as ideally suited to preparing students for the DP.
Our biggest issue (and very common across Hong Kong) is "encouraging" first language Chinese learners to take the bilingual pathway in the IB diploma. Too many opt for the easier option of 'B' Chinese rather than the 'A' pathway. These parental choices challenge our integrity and cause continual tensions. Are you aware of this issue? Could you explore potential solutions?
Yes, we are aware of this, and we are currently exploring solutions to provide guidance for language pathways within the IB programmes.
Mother tongue is irrelevant in many countries and for globally mobile families today. A parent may speak one language, their spouses another, and the grandparents who raise their grandchildren to school age might speak yet another language. When will the IB change the name used for primary languages for students? When will the IB's practice of introducing alternate language learning align with current research that overwhelmingly shows that the best age for children to learn languages is 4-11?
You are right, the profile of our pupils is extremely difficult to pin down. There are so many language scenarios with a child maybe having two parents who speak different languages, a language of instruction and the language of the host country all being different. For the sake of consistency, the IB uses the term mother-tongue to refer to the student's best or first language. If you require further information on the IB's stance, please refer to the section "Language learning" in the document entitled Diploma Programme: From principles into practice.
Have you considered participating in PISA to understand the relative achievement levels of our students?
A few years ago the IB looked into the possibility of getting PISA to generate scores for IB students. At the time the IB research team decided not to pursue this further as it would have been expensive, and the benefits were not felt to justify the costs.                                              
What was the initiative behind the new CAS guide?
Every DP subject and each of the three DP core components undergo a review every seven years. After an extensive process of consultation with DP schools, CAS coordinators and focus groups, the new CAS guide was created. Its focus is on reaffirming the principles of CAS, which includes enabling students to demonstrate attributes of the IB Learner Profile in real and practical ways, to grow as unique individuals and to recognize their role in relation to others. Further, to provide opportunities for self-determination, collaboration, accomplishment and enjoyment. 
Academic – general
To what extent does the IB Learner Profile reflect our community?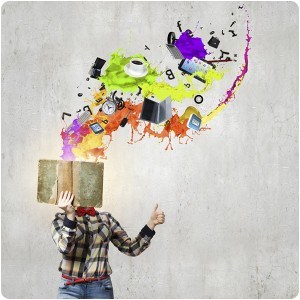 Short answer: we're confident that the learner profile fits our community exceptionally well! The long answer is based on the review we did across the continuum of the learner profile in 2013. Feedback from the IB community was overwhelmingly consistent: the 10 learner profile attributes were still largely fit for purpose. We did make some amendments. The most important revisions were: the descriptors were modified, and now use first-person plural pronouns ('we' and 'our'); a statement of intent describes the nature and purpose of the learner profile in the context of international education; and we created enhanced visual representation of the learner profile.
There is so much research about resilience/grit being essential to personal/professional success at the moment – should it be formally considered as part of the learner profile?
That's an interesting question. While not expressing the concept of resilience/grit explicitly, 'Risk-Takers' does include the sentence: "We are resourceful and resilient in the face of challenges and change." So the idea of resilience and grit is certainly there in the learner profile. Even so, this question will be noted for future reviews of the learner profile.
Why does the IB continue to develop exclusive relationships with service providers e.g. ManageBac, Pamoja etc?
We do not have an exclusive relationship with ManageBac and schools are free to select their provider. The limited exclusivity period provided in the original agreement with Pamoja ends in 2017 and the IB will explore all solutions.
How does the IB plan to evolve its curricula and assessments to meet the technology needs of Generation Z?
The IB is committed to a digital strategy and all programme reviews will include an in-depth evaluation of how technology should be incorporated into the programmes.
Cost
Programme costs are very expensive for low-income students or schools in certain social environments.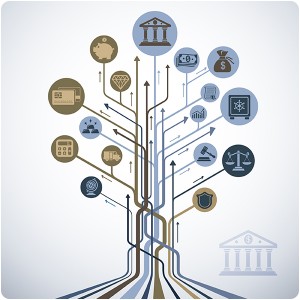 Yes, cost is an issue which concerns us a lot. We are constantly looking at ways to reduce the financial challenges some schools and students face. A major impetus of the global reorganization over the last years was to improve the efficiency of the organization and thereby reduce costs. This has resulted in annual fee increases being held to a strict minimum. We will continue to contain costs and seek further efficiencies. Financial stewardship is a fundamental aspect of the IB.
What concrete steps can be taken to reduce the cost of professional development?
Again, this is something we're continually looking at. We continuously fine-tune PD models, aiming to give greater flexibility and affordability. In-school, district and cluster workshop models give schools more options, improved flexibility and decreased costs. Online workshops continue to be a popular and cost effective solution, with over 10,000 participants last year. In-school workshops enable faculty to stay in place and have a workshop leader come to their host location. This saves schools money in travel and accommodation costs and allows more staff to be trained. There are also blended initiatives, which include self-study e-learning options, which give participants greater reflection and preparation time before they attend their collaborative networking at the face-to-face workshops.
Can we pay in local currency?
Each school is assigned a currency when they are authorized and all costs must be paid in that currency. This is essential in order to ensure the long-term financial stability of the organization.
We are a very small school and our budget is extremely tight. Has there ever been talk of reduction or waiving of fees for small schools who struggle to meet the financial obligation of IB?
We are continually looking at how to reduce costs and also at potential fee models that are equitable for all IB World Schools in all parts of the world.
Under the present situation in my country, where the dollar rate has doubled, making all costs hard to meet, does the IB consider some help towards costs for schools?
We are aware that some schools are under financial pressure and would like to remind you of our IB grants fund, aimed both at schools experiencing short-term financial difficulties, and those seeking additional investment to facilitate wider access. You will find more information on here on the IB website at and you can send your questions to ibgrant@ibo.org
Professional Development
The IB demands lots of PD from its schools. Does it do enough in return to support schools, especially in the early years?
We have recognized that schools need varying levels of support. To this end we have introduced a series of enhancement services. At this time there are four:
'Curriculum Connections', to support making connections and mapping curriculum between the IB framework and programmes and selected national, state, provincial or local curriculum requirements.
'Building Quality Curriculum' helps schools to receive expert, experienced feedback to improve their pedagogical approaches to PYP or to support curriculum changes in MYP unit planning.
'Strengthening Leadership of Groups of Schools' is for leaders responsible for groups of schools, both private and state.
'Optimizing Assessment Analysis' is designed to help schools gain deeper understanding of how to use assessment data and how to create interventions intended to increase student learning.
Why are IB educators who run IB workshops with a school not paid through the IB?
All educators who lead IB workshops are members of the IB Educator Network and are paid via the IB.
Recognition
What is the IB doing with regard to universities in countries like Chile and Brazil who do not accept the IB Diploma as a satisfactory entrance requirement for their own nationals?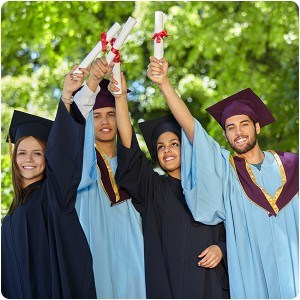 We place enormous importance on ensuring that the efforts of our students as they complete an IB programme are fully recognized by governments and universities. In all regions, the IB has teams who work either directly, or with local IB World Schools and associations, to approach the relevant authorities or universities to ensure that IB programmes are fully recognized. In Brazil, we hope to have an association of IB World Schools formed in the near future and with this there will be partners in the country who can establish relationships in the ministry and really make some headway with the issue of national recognition. For a multitude of reasons this can sometimes take a considerable time.
What is your plan for recognition of DP certificates in the UAE?
We are working closely with the UAE National Qualifications Agency to secure Federal recognition of both Diploma Courses and the Career-related Programme. Currently we have recognition of DP courses in Dubai through our agreement with the Knowledge and Human Development Agency (KHDA).
Assessment
What is your plan for DP exams in Ramadan?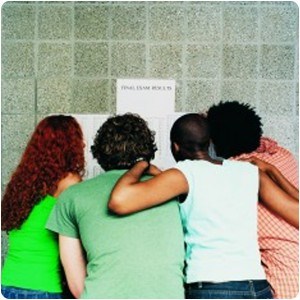 IB students will not be impacted in 2017 as the first day of Ramadan starts on the evening of Friday 26 May, and that is the final day of any of our examinations. During 2016 we will consult with key stakeholders within the IB community and also other awarding organizations impacted. When we have completed this exercise and come up with an approach for 2018 and onwards that is fair and consistent, we will confirm the approach with schools.
Can DP results be issued earlier in July and January?
The completion of marking, quality checks and awards is concluded only just before the release of results. In order to bring the release of results two weeks earlier, the examining schedule would need to be moved back two weeks and this would consequently reduce teaching time. However, the IB is currently consulting schools about issuing results slightly earlier in the November session. Schools were asked in a survey whether they would like to receive results: 5 January as now; between 27 and 31 December; 24 December.
Can we please rethink DP assessment so that 17-year-olds are not staying up late cramming information into their brains hoping to get 7s on exams detrimental to their health?
We take student workload very seriously. We are reviewing the Diploma Programme to ensure that students will work an appropriate amount to prepare for assessments to show their true ability in the subjects that they have spent two years studying. We make every effort to assess higher order thinking skills, rather than just knowledge recall and we believe we perform very favorably in this compared to other national exams aimed at this age group. We regularly revise our curriculum, to ensure it is up to date and provides students with an appropriate grounding for higher education study. We would be delighted to receive any suggestions on how we can improve our international assessment to reduce the kinds of stress you describe.
Both as a teacher and a head of school, I never heard any satisfaction about Internal Assessment. It is always felt that this is an opaque and unfair system, despite all the information provided.
Maintaining a global standard for teacher-marked work is a very challenging task, but it's also critical to ensuring that students are not going to be advantaged or disadvantaged by having teachers who mark more generously or more harshly. We are aware of teachers' concerns about moderation, and are moving to a 'dynamic sampling' model, which is similar to the approach we use for examiners. This means that if a teacher shows they have understood the marking standard then their marks are not changed. In November this was true for over 20% of schools in theory of knowledge (TOK) and Information Technology in a Global Society (ITGS). By November 2016, the IB wants to receive almost all internal assessment samples electronically. Receiving work in this way gives the IB the opportunity to quality assure examiners' moderation standards in the same way that marking standards are assured for script components. Details of the changes were provided in the September edition of DP coordinators' notes. If you'd like a more detailed discussion about your thoughts on moderation, please contact the Assessment Centre at assessment@ibo.org.
The IB is investigating the workload and pressure that the IB Diploma puts on the students. Does the introduction of eAssessment in the MYP add to this stress and workload, and in what ways has this been taken into consideration?
The introduction of external assessment in the MYP will clearly increase the burden on students who have previously only been assessed through teacher assessments. Then again, many schools who have previously taken other external assessments at 16 (for example IGCSEs) may now find that MYP meets their need for a robust assessment outcome, and so they will be able to offer a full MYP experience. We hope this will reduce the difficulty for some students in starting the Diploma, because they have already experienced the philosophy and learner profile which underpins the IB.
Why is the MYP eAssessment based on a 100% examination after a two-year programme, rather than a 50% examination or four 'academic' subjects?
To manage the assessment burden on candidates, it was decided that the MYP would have only one component in each subject. To have the half-and-half model you propose, we would need to have two components, which is certainly something we would consider, but it would double the burden on students. The use of eAssessment does mean we can ask students to complete tasks that previously could only have been done through classroom assessment and so, despite the single external task, we believe we have been able to maintain a reasonable balance of tasks. Breadth is one of the core principles of an IB education, and so we would not want a narrow four-subject MYP, particularly as this could lead to less emphasis on the unassessed parts of the curriculum.
How does the introduction of eAssessment in the MYP promote learning through inquiry?
Technology has huge benefits for improving the quality of assessment. IB assessments are authentic and they reflect teaching and learning. Assessment tasks should engage students in real activities that contribute positively to their learning and enable them to apply their knowledge and skills for authentic purposes. The MYP eAssessments have demonstrated that technology can be hugely beneficial in this important aim: one MYP trial student told us, "I found this task both interesting and interactive. Rather than just express my knowledge, I get to apply it". In contrast, many on-screen assessments are no more than a series of multiple choice questions which we wouldn't want for IB students.
eAssessment – why?
After consultation with the IB community, it was clear that some students and schools needed external verification of student achievement at age 16. The new assessment model strengthens the continuum and offers students formal, recognized qualifications. However, it is not compulsory for schools to enter their students for all of the eAssessments – the only requirement is for authorized IB World Schools with Year 5 students to enter for the Personal Project in order to receive Course Results. Beyond this there is total flexibility for schools to enter their students for as many or few of the eAssessments as desired.
Piloting MYP online assessment – why did we have to pay to participate?
After trials in 2013 it was considered necessary to pilot the on-screen examinations in an environment that was as close to a real examination session as possible. In order to do this we decided to offer the pilot as a service to schools because it allowed us to include all schools who were interested in participating and we were able to pilot all the session's activities, including registration and results release, all within IBIS and with a reasonably representative candidature. The alternative of offering the pilot for free would have led to it being available to selected schools as it would have significantly limited the size of the pilot. We were also concerned that the process would have been less representative of a real session as schools and students may have been less engaged in the process.
Why is the IB pursuing eAssessment for Chinese when this will have a direct negative impact on Chinese literacy?
Promoting digital literacy is an integral part of good MYP teaching and learning, as it facilitates good inquiry-based teaching and learning. It is also vital for student preparation for future study and work. These are as important for Chinese students as they are for other students around the world.
MYP eAssessment and DP final exams are simultaneous. Difficult to organize considering school facilities.
After considerable research by the Schools Division it was clear that the only viable time for the MYP examination session was during the middle of May. This represents a significant challenge to the IB, as well as for schools who examine in both programmes, but unfortunately, after the consultation, this was by far the "least worst" time overall.