By Emily VanderKamp and Lori Mack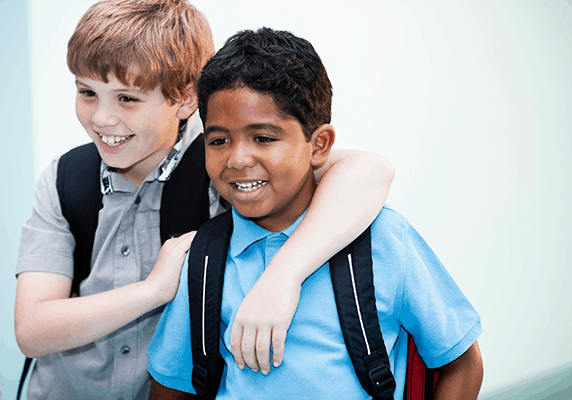 Lessons for international schools from new research
An international school setting comes with its own unique challenges and opportunities. The diverse cultures and language profiles of students and staff can add an extra layer of complexity to all aspects of education, but these same factors can also set the stage for profound socio-emotional learning. But what is the secret to fostering caring attitudes and behaviours in students? New research offers insights.
The IB offers four programmes of international education for students aged 3-19 that aim to develop the intellectual, emotional and social skills needed to thrive in the 21st century. One of the unifying components of these four programmes is the IB Learner Profile, a set of 10 attributes that the IB strives to foster among students. One of these attributes, 'caring,' is defined in the learner profile as:
We show empathy, compassion, and respect. We have a commitment to service, and we act to make a positive difference in the lives of others and in the world around us
A new study by researchers at the University of Nottingham sought to develop a better understanding of the role of 'caring' across IB programmes and schools. The international schools that participated in this research offered the IB's Primary Years, Middle Years and Diploma Programmes and are located in countries across Europe, the Middle East, North Africa, and Southeast Asia. Research methods included student surveys, focus groups with educators and students, interviews with staff members and document analysis.
Overall findings
Based on the survey data, students scored highly on the extent to which they displayed perspective taking, concern for others and a range of other attitudes and behaviours associated with caring.  Additionally, a large majority of students agreed or strongly agreed that their school teaches them to be more caring. Differences between individual schools were more noticeable than differences between the IB programmes within a school, indicating that certain schools were more successful than others in cultivating caring behaviour. The study highlighted some of the practices that may help to develop caring young people.
Creating a caring school culture
One of the key findings from the study is that a caring school culture is best fostered when caring is integrated into the fabric of the school, at all levels, and across all roles. To develop a caring school, an ethic of care must be shared by leaders, teachers and students. In many schools, caring was perceived as a pre-condition for learning, without which learning could not be as effective. As one teacher explained, "I feel that with these little kids they really do need to have the feeling of being 'cared' for, and 'caring' for others before they can really, you know, feel comfortable enough to learn academically."
Researchers identified school leaders (both formal and informal) as playing a critical role in cultivating caring school cultures. Leaders set the tone within the school and can both model caring behaviour and institute practices and policies that support it. "Accidental modelling," however—in which a student passively observes teachers' caring behaviour—is not necessarily sufficient for developing caring students. Conversely, the researchers advocate "conscious modelling" of caring by leaders and educators, making students active participants who are engaged in caring alongside the faculty.
Many of the participants that were interviewed believed that the IB curriculum paves the way for making caring a focus within schools. The position of caring in the learner profile elevates its importance and encourages teachers to incorporate caring into their daily practice. Additionally, the emphasis that the IB places on community service helps schools to prioritize caring behaviour both within the classroom and in action within the broader community.
The IB philosophy of education recognizes that learning is a social process. As such, this study suggests that learning must be supported by an ethic of care in which all those involved, as educators and students, share a commitment to supporting the learning and well-being of one another.
How does your school help to develop caring students and staff? Post your comments below – we'd love to learn from your experience!
To learn more about this study, please read the study summary or the full report.  More than eighty research reports on international education are available on the IB Global Research website.You can also contact us research@ibo.org.
---
Emily Vanderkamp is the IB Research Communications Manager, and Lori Mack is an IB Research Analyst.