At the Chief Examiners Conference in March, some took the opportunity to raise a question with the IB Director General, Dr Siva Kumari, by writing their question on a postcard. Take a look at the questions and Siva's responses below.
1
How will you make sure that the standards remain international and not become western?
For the review of our programmes, individual subject guides, and standard and practices, we are careful to build review teams that represent a wide variety of perspectives from around the world. Central to our work is staying committed to and guided by our IB mission. To be international, the IB needs to incorporate international perspectives in its curricula. The IB is determined to keep its representation coming from wide and diverse parts of the world to maintain an appropriate balance between cultures, we also have an internal focus on international mindedness amongst our staff. Many curriculum and assessment managers have experience of teaching in different countries as well as an insight into how their subject specialism is perceived by different cultures.
Regarding assessment, the diagram below highlights that standards consist of three parts: the demands of the curriculum, demand of the questions, and where the boundaries are placed. During every assessment session, we place great emphasis on maintaining the performance standards of our IB assessments, so this should prevent the shift the question implies. By asking principal examiners and chief examiners to scrutinize the results data for evidence of bias we can ensure that we continue to design questions that are globally generic and not easier for certain cultural backgrounds to comprehend. The final aspect is that of the curriculum.
I would love to hear why you think it is not international at the moment.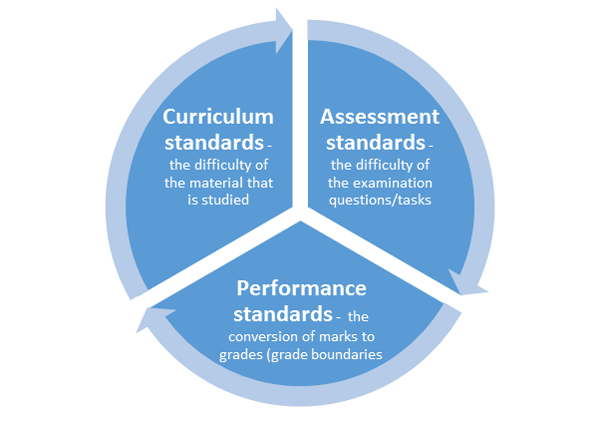 2
How do the curriculums for the arts fall into your global standard? What roles do you see for the arts in helping to balance data-driven curricular areas with those (like the arts) that offer opportunities to create unique solutions and, therefore, both respect and connect diverse ideologies and perspectives?
Creativity and the arts in the IB and, more generally, in the approaches to teaching and learning that guide all of our programmes, aim to develop ways of thinking and engaging with the world that respects and connects diverse ideologies and perspectives. All DP courses allow for some creativity in problem-solving, and we build in considerations of international-mindedness across the entire curriculum. We want to develop every DP course to encourage creativity and inquiry in equal measure, potentially in contrast to other educations, which focus on procedural rote learning.
We encourage schools to engage in interdisciplinary activities that reflect what happens in the real world. We also encourage students to reflect on problems from a range of perspectives, both cultural and disciplinary, to appreciate that in order to lead in the creation of a better world they need to understand other people, whether their primary interest lies in the sciences, arts, literature or the humanities.
3
Less than 25% of DP students currently take arts subjects. Is this something you are committed to changing?
This is a good question for the upcoming Diploma full-programme review. We will pass it on for consideration to the Head of Diploma Programme Development. We would like to see participation in the arts courses increase and promotion of this could be assisted by promotional materials aimed at parents including research supporting the development of creative thinking and employability through participation in the arts. We are willing to consider the status of group 6 in the overall programme model, but in doing so we would have to consider the number of existing schools that might not be able to deliver a full diploma containing a compulsory group 6 course, and that we might have to reconsider the nature of some of the group 6 syllabuses so that they could be studied by individuals with no previous performance experience (e.g. music). The assessment models would also require substantial reconsideration. Overall, however, we remain committed to a broad, holistic curriculum that encompasses all groups.
4
How best to recruit and support very promising staff
I would say that the one way to recruit the best staff is to increase our focus on delivering world-leading teaching, learning and assessment products that work seamlessly together as one ecosystem and which further articulate our beliefs about international education. We should stop doing anything that doesn't contribute directly to this.
5
What are your plans for maintaining the mother tongue entitlement policy?
Mother tongue entitlement in the Diploma Programme is currently delivered through the availability (by request) of language A literature assessment in any language for which there is a body of literature. This is a provision unique to the IB and a matter of institutional pride. The current review of the language A literature course is committed to the sustainability of mother tongue entitlement and has taken substantial steps to reduce the costs associated with the provision without compromise of the principle.
In the Middle Years Programme, mother tongue entitlement is preserved through an extended language offering for a personal project and the option of special requests in languages not currently offered. Through the special request system, we aim to accommodate any language requirement in the MYP community.