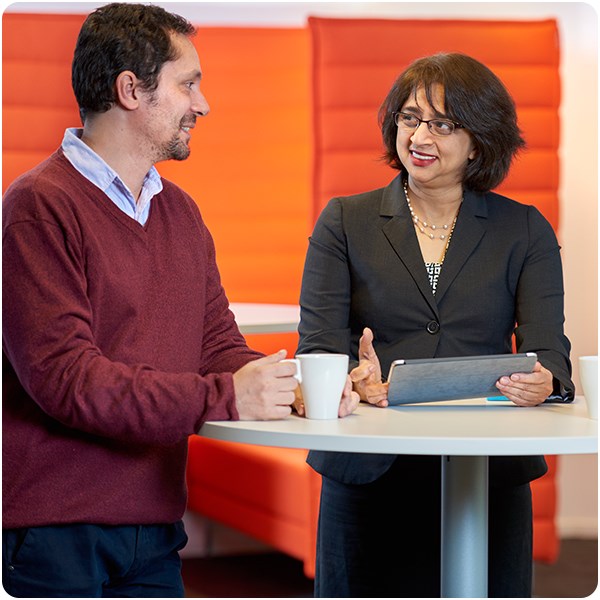 In this latest instalment of your Postcards to the DG, we share questions submitted during the IB Asia Pacific Conference in Hyderabad, together with the responses from IB Director General Dr Siva Kumari.
You can also refer to the first instalment of Postcards to the DG here, as well as the recently published Chief Examiner postcards to the DG here.
Click on each of the tabs below to read the questions and answers.

Academic
Would you please give more support for IB schools to develop mother-tongue programmes?
I welcome feedback and suggestions on what additional support you believe the IB should provide and how schools would benefit from more support in developing mother tongue programmes. Please email heads.council@ibo.org with your feedback and I will ensure it is shared with our Academic and Language Services teams for consideration. You may already know the section "Language learning" in the document entitled Diploma Programme: From principles into practice for additional information on the IB's stance on mother-tongue.
There are 98 (and growing) IB World Schools in China, and each one has to provide unofficial translated key documents such as the DP regulations to their community. If not an official language is there at least an understanding and action plan to provide key documents in other languages? We have to find that capacity ourselves.
We do recognize that growth of schools in China will require us to provide my resources with our Publications and Language Services teams. We presently provide selected services and documentation in the access languages (Arabic, Chinese, German, Japanese, Turkish and Indonesian), mainly to support teachers. Further details are available on our website http://www.ibo.org/language-policy/.
Why does the IB not make past papers a free resource and put it up on IBIS for us to access?
As a result of recent incidents, it would appear that past papers are being used as a vehicle to teach to the test, and this has resulted in unintended adverse consequences. We would stress that there is a need to present questions and past exams with caveats for the students and teachers to REFLECT on what the questions and past exams tell them about what the IB—not the tests—are driving for AND to use the questions and exams in conjunction with the markschemes. The purpose of the exam CD with the papers and markschemes is to provide teachers and students insights to the IB and use the questions to get these insights. The markschemes help to provide these insights in how answers are being reviewed by real examiners. This has huge value for schools and students. The process, taken on twice per year, to get every exam CD published is cost-intensive because we have to attend to a different set of rules to provide to schools for non-exam purpose, which is why there is a fee to purchase them.
Are we going to have to add "sleep deprived" and "stressed" to the IB Learner Profile?
We wish to assure you that we do not want to add these two terms to the IB Learner Profile! As part of the research being conducted to inform the scope of the Diploma whole-programme review, we are looking at student well-being and stress. The IB has been carrying out a pilot phase of research on student workload; we are now coming to the end of the pilot phase and plan the launch of the full-scale research in the second half of 2016.
Diploma Programme
There's a lot of rhetoric about the importance of skills/accomplishments and the out-moded performance-related focus on academic achievement – so put "your money where your mouth is" – Why not scrap numerical grades in DP and replace with purely qualitative comments?
Currently the primary purpose of the IB Diploma assessment outcome (which is not necessarily the same as the purpose of the IB Diploma Programme) is to support student entry into universities around the world. This means that we need to design an assessment model that universities (around the world… appreciating that different countries have very different systems) can use for this purpose. It is inconceivable that we will short-change students who have worked this hard to get a diploma. The IB Diploma is already different from other world standards.
In the IB we are guided by Alex Peterson's quote "What is needed is a process of assessment which is as valid as possible, in the sense that it really assesses the whole endowment and personality of the pupil in relation to the next stage of his life, but at the same time sufficiently reliable to assure pupils, parents, teachers, and receiving institutions that justice is being done. Yet such a process must not, by its backwash effect, distort good teaching, nor be too slow, nor absorb too much of our scarce educational resources." We may not have achieved that goal in the IB yet, but we also believe that there is not yet an alternative which is closer to it given the opportunities (and pressures) to distort outcomes that exist. Numerical grades (1-7) are not without meaning – they are shorthand for the qualitative descriptions of performance in the grade descriptors.
The final point I would make is that in thinking about the wider range of the learner profile, we are looking at portfolio-like outcomes to encourage these attributes to be values.
The students in IB programme spent more time, energy, passion and have more pressure than the other programmes. But the application results are not as good as those. It is kind of frustrating for us to help the students in this way. Also the students need to take ACT, SAT which is really not necessary for us students. IB students are very successful in the university. They need to be helped in this way, not to take SAT or ACT.
AND
Apart from the obvious benefits to students of a successful Diploma Programme, in my view a 30+ point Diploma is a guarantee that a student is more than competent to study in any English language university. Will the IB devote any resources to convincing universities of the irrelevance of other English tests such as IELTS, SAT etc. thus reducing demands on IB students?
We place enormous importance on ensuring that the efforts of our students as they complete an IB programme are fully recognized by governments and universities; we do not specifically try to discredit other exams or accreditations. In all regions, the IB has teams who work either directly, or with local IB World Schools and associations, to approach the relevant authorities or universities to ensure that IB programmes are fully recognized. We have also recently launched the Student Registry which helps connect IB World Schools, IB students and universities with IB recognition policies; please visit https://registry.ibo.org/ to activate your profile and encourage your students to register.
SAT, ACT are such established standards for American universities. The IB cannot fight such entrenched means of determining university entrance.
Why not rewrite the guidelines of TOK and EE, which permits the EE/TOK coordinator to "guide" as per the reasons of university rules of research report – in order to avoid stress and strain of DP students.
This is a good question for the upcoming Diploma full-programme review. We will pass it on for consideration to the Head of Diploma Programme Development.
Systems
Why so many websites? Please reduce Follett, IBIS, OCC, Student Registry, IB examiner, My School, and many others.
We agree with you. We have projects underway which are setting the foundation a portal that we can introduce single sign-on capabilities for many of our applications.
IB Conferences
Is it possible to find mid-career, dynamic speakers who went into the field they did to make the world a better place because of their IB education? Perhaps they could share their reflections on how their IB experience framed their world view and their life's work?
Thank you for the suggestion; we are interested in finding up and coming speakers especially with IB experience and leading into our 50th anniversary in 2018. Any suggestions for speakers is much appreciated and can be emailed to headsconference@ibo.org.
Why don't we have students presenting at the conference?
The IB regional conferences incorporate students in a variety of ways, for example, introducing keynote, featured and breakout session speakers; giving student performances; and volunteering at registration.
Why not have the dinner on Day 2 to allow more delegates to attend? Many have to fly out directly after the conference. You could have farewell cocktails (swap events around). This would be much more inclusive.
Thank you for the suggestion; it has been passed to the conference planning teams for consideration.
General
Frame the USP of IB in just three words.
A broad education. Rigorous. Internationally assessed. (Five words!)
How is the IB working with school groups like Nord Anglia?
The IB does not have a formal relationship with specific groups of schools but is designing new services aimed to help meet the unique needs of groups of schools, such as Nord Anglia and other big groups but also UWCs, public school districts, etc.
How to convince parents to send their children for our MYP programmes if we are still a candidate schools.
You can direct parents to our new resource page aimed at parents: http://www.ibo.org/information-for-parents/. You may also visit our Digital Toolkit, http://www.ibo.org/digital-toolkit/, which has a variety of resources on the IB.