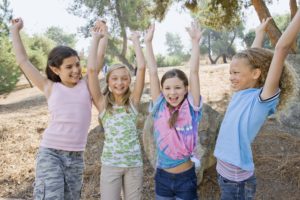 In the final article in the series, discussing inclusion, IB World speaks to parents about how schools support their children through the IB Diploma Programme (DP), despite challenging circumstances
Elizabeth McCausland's son was diagnosed with attention deficit hyperactivity disorder (ADHD) and developmental coordination disorder, which affects his visual-spatial reasoning – including pattern recognition – and fine motor skills, making handwriting a problem.
Despite these challenges, he earned the IB Diploma Programme (DP) at Stratford Hall, in Vancouver, Canada, in May and has recently started university.
"At one point, we did not think he would be able to earn the DP and were not sure he should even attempt it, but he exceeded his projected scores," says McCausland.
Her daughter also has ADHD and is studying the Middle Years Programme (MYP). The teachers' readiness to listen to McCausland and her husband about areas of concerns, and make inclusive arrangements, has been instrumental in their children excelling in the IB programmes, she says.
"The teachers' willingness to listen to us, and our children, and work with them on adaptations that will help them learn, has been key to their success."
"It can be hard for students with ADHD to show what they can do," adds McCausland. "The support of teachers at Stratford Hall has helped the children do the work they are really capable of, to learn a lot and show what they have learned. It has increased their confidence in their own abilities," she says.
Arranging reasonable adjustments
When searching for a school, McCausland wanted to ensure her son wouldn't "fall through the cracks" because of his specific learning difficulties.
"My husband and I also liked the IB philosophy at Stratford Hall, which has some overlap with a Montessori programme in things like attention to the community and an emphasis on independent thinking. And we were very impressed with the curriculum – especially the thought the teachers put into the relationship between different courses, the depth of study and the attention to writing skills," she says.
McCausland particularly credits Stratford Hall's learning specialist who works with students who need accommodations and individualized education plans (IEPs). "At the beginning of each school year, she organizes a meeting with the psychologist who assessed our children and their teachers. The psychologist compared our children's brains to 'driving a Ferrari with the parking brake on' – they process information and ideas more slowly so they can't, for example, easily keep up while taking notes in a lecture. When taking an exam, they can struggle to get ideas out fast enough to keep up with their own brains."
"The learning specialist discussed reasonable adjustments, supportive measures and ways teachers can help our children learn and play to their strengths – such as encouraging them to talk their way through mathematics problems so they can use their strong verbal reasoning skills," she adds.
Supportive learning strategies
The school worked with the McCausland family to come up with strategies to support their son's learning. "Teachers have done things like provide notes in advance to help our son follow lectures, help him come up with mnemonics that will let him apply verbal reasoning to mathematics and science concepts, provide extra time on assignments when needed, and help him learn to break down and create a plan for completing long-term projects," says McCausland.
"The school worked with him throughout the DP so that he was ready for success on the exams when they came," she adds.
The teachers' high expectations, which remind students that they need to advocate for themselves, and to ask for support when they need it rather than waiting for a serious problem, was also a positive for McCausland. "The school helps students manage their disabilities effectively, something that will serve them well later in life."
"My son has learned a lot about self-discipline and time management, and it's given him a lot of confidence as he heads off to university. He seems well prepared to manage those demands fairly independently," she adds.
"What we've learned is that with hard work and support from the school, a student whose learning disabilities might seem to preclude an IB education can be successful, if they have appropriate strengths to balance the areas of difficulty."
Open and regular communication
Student Henry also attends Stratford Hall where he studies the DP. He has attention deficit disorder (ADD), fairly severe executive function – which affects his working memory – and written output deficits. His mother Tami Crawley says he was determined to take on the DP.
Crawley also found the school very supportive. She says: "Regular communication with all of Henry's teachers, and staff dedicated to managing students with IEPs, made a big difference.
"They have allowed him to use a keyboard for most written work and examinations, given him more time for longer written assignments and encouraged him to develop into an advocate for himself and to speak up when he needs extra help."
Henry was able to use a specific graphic organizer, which is now approved and available to all IB students with written output deficits.
Crawley found that the IB programme is suited to students with similar inclusion needs in the lower grades "as there is a lot of flexibility in learning and lots of one-to-one attention."
"But the volume, pace and degree of time management skills required heats up grade by grade," she adds.
It became apparent midway through grade 11 that the DP was more than Henry could manage and it was suggested he switch from the high level courses to the standard level, but he was determined to keep trying, says Crawley. However, by the end of the year, Henry came to the realization that the volume and pace of work was too much and agreed to change. The school was supportive of his decision.
Currently, Henry is considering a gap year and may volunteer overseas. "His IB education will better prepare him for post-secondary education and to engage in the world around him," adds Crawley.
---
For more information about the IB's authorized a range of inclusion arrangements and reasonable adjustments for students, IB educators can visit the programme resource centre or contact inclusion@ibo.org