We are delighted to introduce this new series of stories from IB World magazine that bring to life the wonderful initiatives undertaken by IB students and educators from around the globe. The stories focus on community activity and really bring service learning to life. Follow these stories on Twitter @IBorganization #IBcommunitystories. Share your great stories and experiences: email editor@ibo.org.
IB students in Oman created the longest human representation of pi
To bring mathematics to life and unite the community, 259 people from ABA – An IB World School, in Oman, came together to create the longest human representation of pi digits and set a Guinness World Record.
The idea arose when the MYP mathematics class was planning the school's Pi Day Competition – an event celebrated on March 14 (3.14) where students compete to see how many pi digits they can remember correctly and consecutively. Pi begins 3.14159 but as it's considered a mathematical constant, it has no end. Megel Barker, Assistant Principal, MYP Coordinator and Mathematics Teacher, was concerned that the audience would get bored if the contestants went on for a long time. "A student suggested that we give them numbers to hold up as an audience prop. This led to the idea that they be arranged in pi order," he explains. The students discovered that there wasn't a world record for the longest human representation of pi digits, and so decided to take on the challenge.
The whole school got involved. Students formed a committee to plan the event; a few volunteered as camera operators; others checked and distributed the numbers; and some dealt with logistics, communications and marketing.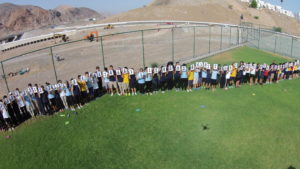 As Guinness World Records set a minimum of 250 people as the target, students put forward their parents, wrote newsletter articles and placed posters around school to call for more volunteers to get involved.
Barker says the project had a "massive impact" on students' engagement with mathematics. "Having played a pivotal role in the development of an idea until it became a success, the students were able to recognize the importance of good self-management and planning in order to be successful, the nurturing of thinking skills and the development of communications and social skills," he says.
"Overall, being part of this record allowed students to contribute to the school community positively, in some ways helping to put ABA on the map, while improving their Approaches to Learning (ATL) skills."