We are delighted to introduce this new series of stories from IB World magazine that bring to life the wonderful initiatives undertaken by IB students and educators from around the globe. The stories focus on community activity and really bring service learning to life. Follow these stories on Twitter @IBorganization #IBcommunitystories. Share your great stories and experiences: email editor@ibo.org.
MYP student's production aims to change perceptions and increase understanding
After meeting a child with Down's Syndrome at an airport, Humay Mammadova, MYP student at European School, in Tbilisi, Georgia, decided to produce a film to raise awareness of the ways people with Down's syndrome interact with their friends, families and communities.
The film Who We Are gives insight into the lives of children with Down's syndrome. Humay worked with families from awareness charity The Children of the Sun. She hopes the film will help people understand and engage empathetically with people who are different – including people with disabilities.
However, as Humay is originally from Azerbaijan, she also had to work on her Georgian language skills to be able to communicate effectively with the families of children with Down's syndrome.
When she premiered the film to the families on 3 March (Georgian Mothers' Day), Humay received a very positive response, especially when she surprised parents with a second film, where the children thanked their mothers for all they do.
The film is making a difference: "It has changed my friends' and classmates' opinions and attitudes towards people with Down's syndrome," she says.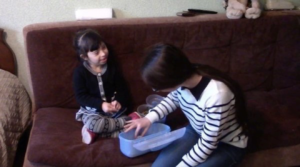 Who We Are has been a success outside of the local community, too. The film was awarded first prize at the International Student Project Conference, which took place at Mahidol University, Thailand.
"The majority of the audience were crying and many gave me positive comments," she says. "Some also asked for copies of the movie so they could share it on social media. A few even wanted it in their own language."
Humay didn't stop there – she also shared Who We Are at Sokhumi State University, Georgia, a local TV station Ertsulovneba and the Tbilisi City Assembly.
Creating the film shifted Humay's perspective of the world. She says: "I can safely say that these children really are special. They have made me see the world in a different way; a more positive and inclusive way."
Humay hopes to show more people the film and, one day, become a pediatrician. "I've gone too far to stop now, so I will continue helping people with Down's syndrome as much as I can," she says.