By Adrian Kearney, Director of IB World Schools

Globally, students have unlimited access to information and entertainment via the latest apps and gadgets – both throughout their education and in their free time. Technology and connectivity are having a dramatic impact on schools and this is revolutionising good practice for teaching and learning.
It is now unusual to find a school that does not provide students with access to a range of devices. Progressive schools are developing innovative ways to integrate technology in many aspects of day-to-day teaching; from online collaboration with peers or subject matter experts in other locations to better involving parents in their children's learning.
Modern technology also offers educators a variety of new tools, processes, and resources, which can be used inside and outside of the classroom, to allow teachers to track and assess their students' performance throughout the academic year.
It seems surprising that technology has not been integrated to the same extent in educational assessment processes — particularly in the UK's GCSE and A Level examinations. Even when technology is utilised, more often than not, examination boards utilise a bank of questions that are either multiple choice or 'fill in the blank' style, which offers students little opportunity to exhibit the depth of their learning in context, their creative and critical thinking, or the breadth of their imaginations. These one-dimensional assessments only test students on a narrow range of skills, and reveal very little about what today's technology-savvy students know, and can do.
It is important that educational assessments should measure applied and contextual knowledge—not just what has been learned by rote—to significantly increase the relevance of test results. Students themselves, teachers, Higher Education establishments and future employers alike benefit from understanding not only what students know on a given examination date, but also their aptitude and ways of learning and working, as learners, and as citizens of local, national and global communities.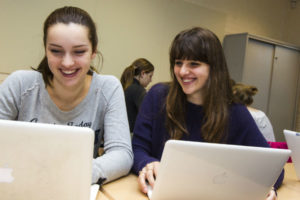 Taking the initiative to lead the change in assessment, we have launched a new electronic model for assessing students' achievements in our Middle Years Programme (MYP), which includes a new on-screen examination process. The new eAssessment model is taken by 16-year-olds upon completion of the MYP, and pushes students to go beyond the rote memorisation of content; just 25 percent of the assessment is based explicitly on knowledge and understanding – the rest focuses on inquiry, communication, and critical thinking skills.
Technology facilitates every step of the MYP eAssessment delivery, providing examinations that are not only valid and reliable but manageable and measurable. The greatest impact of the technology, is its impact on making a broader range of content more easily accessible to students: digital design makes it possible for students to engage with images, visual texts, videos and animations; on-screen tools support candidates working in a language that may not be their first or best language; and adaptive technologies ensure that the examinations are accessible to students with special needs.
As the education sector continues to catch up with the rapid pace of technological advancements seen at home and in the workplace, examination boards must work together to understand and develop assessment models that measure what, we predict, will matter in tomorrow's world. We are only now beginning to unleash the power of technology to promote more meaningful assessment and better learning, but it's a really exciting place to start.