---
Proudly telling the world about #generationIB in our 50th anniversary year
---
Budding social entrepreneur Camil Chaari discussed his e-recycling project at a climate change conference. He has saved around 5,500kg of CO2 emissions to date
Every year, thousands of participants from almost 200 countries come together at the United Nations Climate Change Conference (UNFCCC) to discuss climate change. This year, Camil Chaari got to be a part of that.
The conference is the formal meeting of the UNFCCC Parties, also known as Conference of the Parties (COP).
Camil, an IB Diploma Programme (DP) student at Rabat American School, in Morocco, was invited to speak about his e-recycling project, at COP22, which was held in Morocco.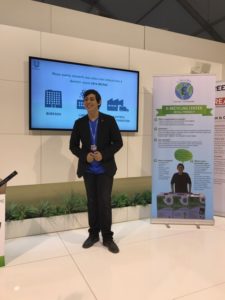 The e-recycling project, which was officially founded in 2015 through a partnership with two local companies, offers recycling solutions for electronic waste.
Camil opened an e-recycling center in his garage and, to date, has had over six tonnes of e-waste collected and recycled, and saved around 5,500 kg of CO2 emissions. He has worked with 40 partners in his mission, including the Canadian and French Embassies. He's affected change around the country too, as recycling has increased in schools across other cities in Morocco.
"E-recycling aims to reduce carbon emissions, advocate for the recycling of electronic waste, and educate young people about the negative impact electronic waste has on our environment and the best way to deal with it," says Camil.
The idea for the project arose when Camil was on holiday in France. He noticed people leaving electronic waste in recycling bins in the supermarket, and was fascinated. "It was a brand new idea to me and one I thought could work in Morocco," he says.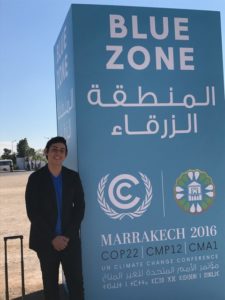 He has learned life-long skills since starting the project, he says. "Anything is possible with a bit of determination, and I've learned about organization, creativity, confidence and patience."
Through his achievements, Camil has been recognized as a UNESCO Green Citizen. He plans to continue his work, and will host workshops for students of all ages to discuss electronic recycling.
I am convinced that respecting our planet is not a choice but an obligation," he says. "It is time for action and I will continue to take part in it." 
This article is part of a series of stories from IB World magazine that bring to life the wonderful initiatives undertaken by IB students and educators from around the globe. Follow these stories on Twitter @IBorganization #IBcommunitystories. Share your great stories and experiences: email editor@ibo.org.