Studies show that challenging classroom behaviour is suggestive of learning barriers, but how are IB teachers working with students to overcome these obstacles? IB World investigates
Remember the days when a 'time out' was a popular teachers' tactic to address 'misbehaviour' in the classroom? Research has since confirmed that this method is more of a hindrance than a help – students end up feeling more angry, resentful and embarrassed. It affects their self-esteem and damages teacher-student relations.
Time-outs – which are part of the 'medical model' – also do not address the root cause of challenging behavior and instead label the child as the problem. However, the 'social model', which has been adopted by schools around the world, recognizes the support a child needs and how learning barriers can be removed. This is an approach supported by the IB.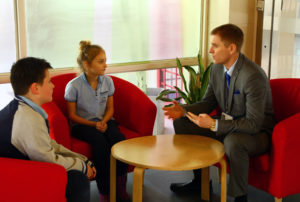 Jayne Pletser-Dent, Curriculum Manager for Inclusive Education at the IB, explains: "When children exhibit challenging behaviour it is important to work with them to find out what has prompted the behaviour. Behavioural issues are usually a result of challenges that the student is unable to overcome and may be considered a cry for help."
It's also important to note that challenging behaviour in the classroom might be indicative of a range of issues (see box out).
Self-reflection
Todd Reichlmayr, IB Diploma Programme (DP) Economics Teacher at the American School of Milan, Italy, ensures his lessons are differentiated, engaging and appealing to all students.
"After a class in which a group of students weren't on task or were misbehaving, the first point of reflection for me is 'what did I do or not do to cause this to happen?'.
"Sometimes directions weren't clear, or the activity we were doing wasn't engaging enough. I find that when students are on task and engaged, that is when my classroom management is the strongest."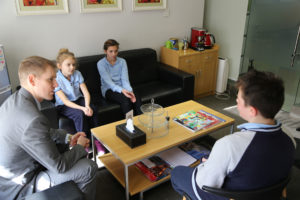 Taking a more of a self-reflective approach has improved Reichlmayr's teaching, developed his relationships with students and created a positive learning environment for everyone.
He adds: "I understand that all students have different motivations and appealing to those aspects will help make the learning more meaningful. I really try to vary the types of activities and assessments that we do in class to keep the students engaged."
When behaviour negatively affects others, Primary Years Programme (PYP) students at Wesley International Academy in Atlanta, US, are encouraged to reflect on their actions. PYP Teacher Scarlett Mcintosh, uses thinking maps – a graphic organizer, which encourages students to complete a series of reflections about the reasons for their actions, possible consequences and reasonable solutions.
"The traditional consequences for misbehavior are really ineffective," says Mcintosh. "I use thinking maps for a variety of situations, including peer conflict resolution and violations of our essential agreements, to name a couple of examples."
Mcintosh says students have become reflective thinkers as they contemplate their actions more closely.
She also uses 'restorative practice' in the classroom – a process to proactively build healthy relationships and a sense of community to prevent and address conflict and wrongdoing.
Xi'an Hi-Tech International School (XHIS), in China, uses this method, too.
Brian Lalor, Head of Primary, explains: "At XHIS, if a relationship has been impacted, the teacher will usually form a restorative circle. During this time, each participant will have the opportunity to explain how he/she was impacted by the event. All parties will have their voice heard and have an opportunity to restore the relationship."
Restorative practice reflects the IB learner profile attributes 'caring' and 'communicators' as students show empathy, compassion and respect; and collaborate effectively, listening carefully to the perspectives of others.
"Through reflective practices, I have learned the importance of dialogue and all sides having their say. Students learn that they can hurt others by their actions. They get the opportunity to hear the other student out, reflect on their actions and put steps into place to restore a relationship."
Mindfulness and meditation
The IB identifies a range of strategies and approaches to extend learning for all students, and mindfulness and meditation also play a role, says Pletser. Successful learning involves cognitive elements, as well as social and emotional aspects.
IB World School Pathways School, Noida, India, uses mindfulness techniques to improve focus and help students stay on task. Feedback has been positive, according to Sonu Khosla, Head of Department, Inclusive Education.
"These techniques have been very useful in the 'Learning Centre'. Students sit with their backs straight and just breathe, allowing their minds to wander without judgment but always trying to come back to the breath as an anchor," she says.
'Brain Gym' and multisensory approaches are also applied to improve concentration. "Teaching with sand, shaving foam, hair gel, sandpaper, wooden alphabets, Scrabble and crossword puzzles goes a long way in learning spellings and vocabulary," adds Khosla.
In addition, the school has a specially designed activity/sensory corner in the learning centre to help students with attention deficit hyperactivity disorder (ADHD) and autistic spectrum disorder. "For students who require time to wind down, they can jump on the trampoline, use a hopping ball or playing with sensory toys. This all helps calm them down."
In Thailand, IB World School Phuket International Academy (PIA), uses Mindfulness Based Social and Emotional Learning (MBSEL), which focuses on self-awareness, self-management, social awareness, relationship skills and responsible decision-making.
Teachers receive ongoing professional development in mindfulness and practice it daily. They understand that they are the "decisive element in the classroom," says Teacher Haim Ginott.
"As a teacher, I possess a tremendous power to make a child's life miserable or joyous. I can humiliate or heal. In all situations, it is my response that decides whether a crisis will be escalated or de-escalated and a child humanized or dehumanized," he adds.
Principled learners
While the IB encourages students to be principled learners, who take responsibility for their actions and the consequences, "to assume that teachers hold no fault in the behaviour of students is bordering on negligence," says Reichlmayr.
Research shows that labeling is ineffective as is banishing students from the classroom. "Students with challenging behaviours need to feel that they belong and have more personal contact with their teacher," adds Pletser.
What should teachers do if challenging behaviour in the classroom is indicative of a more serious problem? Jayne Pletser, Curriculum Manager for Inclusive Education at the IB, writes:

Creating positive learning environments and a sense of belonging for all students are key in addressing behaviours that are perceived as 'challenging'. Such behaviours should always be understood in context and are rarely the result of willful or intentional opposition, but may be the result of neurological, internal-processing difficulties or stressors.

In an effort to connect with and support the student, educators should ask themselves a range of questions, which could include:
Is the student new to the school – has the student had a consistent learning background? What are the gaps or overlays in learning?
Is sadness, grief, anxiety or culture shock influencing learning and behaviour?
Are perceived levels of spoken language masking true levels of language learning? Well-spoken students may be struggling at the written level and, for others, being unable to express themselves threatens their self-image.
Does the student have any medical or physical issues? Screening for sight and hearing should be considered. In cases where students have more complex needs or are non-verbal, consider undiagnosed pain to explain unusual behaviours.
Understanding and patience will be necessary to provide a sense of belonging for all students when challenging behaviors are being experienced.

Developing a positive classroom climate conducive to supporting the learning of all students requires that students feel cared for, trusted, understood, valued and safe and are appropriately challenged by their learning. Expectations should be high, but realistic and a sense of belonging developed. In positive classroom environments, students are listened to, have their opinions sought, and are provided with opportunities to succeed.

IB documents and research to support the development of positive classroom environments include: