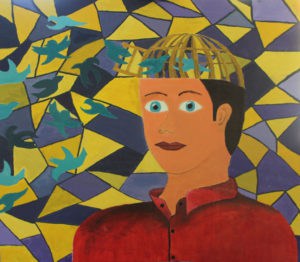 MYP students' artwork makes the IB Learner Profile more accessible for the whole school community
If you walk around the International School of Tanganyika (IST) campus, in Tanzania, you'll be struck by the colourful murals on the walls created by Middle Years Programme (MYP) students.
The paintings are not only visually engaging, but also aim to help inspire the school community by teaching about the IB Learner Profile and Approaches to Learning (ATL).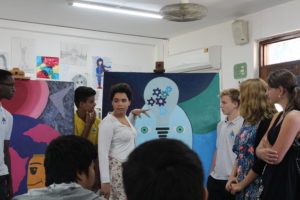 The idea for the murals arose in 2015, following a school-wide initiative, led by the ATL Coordinator, to help students understand the ATL clusters. The Coordinator and MYP Art Teacher Vanessa Vanek decided murals were a great way to do this. They collaborated on the initial planning stages of bringing this to life. As it was a success with students, Vanek decided to continue the idea with her class last year.
Students illustrated an IB Learner Profile attribute in the context of the future. This idea was inspired by about an Italian art movement from the 20th Century called Futurism, according to Vanek. Many of these artists within this style were fascinated by new technology.
"Students began to ask themselves, for example, how could their attribute relate to popular forms of technology, or what a particular attribute might look like for future grade 6 students."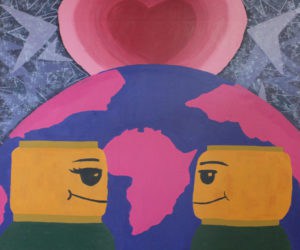 Vanek adds: "These paintings bring a much-needed element of life to our campus. And since we talk about the profile attributes in all our classes, these murals truly exemplify what we hope to develop as life-long learners.
"Having the profile presented in a visible format vs. what could be seen by some as just an abstract idea that is written in words on a poster, is also much more accessible."
Ben Powell, MYP student and leader of the 'Thinker Mural', says the project was an ideal opportunity to learn leadership skills. "I learned many different aspects of how to put together a piece of art and how to lead a team. I also learned and explored new art techniques that helped me become a better artist."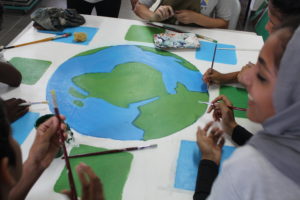 Students are now more aware of art activism and how community-based artwork can be a vehicle for inspiring change or introspection, and celebrate a community's values, according to Vanek.
In future, Vanek hopes students will create murals that celebrate IST's multi-cultural campus and its IST's various interdisciplinary units (IDUs).
This article is part of a series of stories from IB World magazine that bring to life the wonderful initiatives undertaken by IB students and educators from around the globe. Follow these stories on Twitter @IBorganization #IBcommunitystories. Share your great stories and experiences: email editor@ibo.org.