We invited IB Diploma Programme (DP) graduates to reflect on their lives and studies. Learn more about the IB Alumni Network at ibo.org/alumni.
By Diana Ton
Both of my parents were immigrants and started a whole new life when they came to Canada. My mother came to Canada when she was 26 years old. At this age, most people are already established in their lives, but my mother had to start her life over again. Throughout the DP, my parents served as my greatest inspiration, encouraging me to pursue higher education while following my passions. In fact, they continue to be an inspiration to me now, in all aspects of my life.
As a student, my mother had to retake high school courses, received an accounting diploma, and eventually her got her Certified General Accountant (CGA) designation. I can say that she was very determined to make something of herself and she still is because she recently received her master's in Business Administration. My father is very successful with his career as well. He is an established realtor and owns several properties that are used for investments. Both my parents have influenced me to think outside the box and be smart business wise.
My path to becoming a part of the IB Diploma Programme (DP) was quite unique compared to most students. I completed DP courses rather than the full diploma and the school I attended provided students with a complete enrichment of arts. This made my IB experience distinctive because I completed higher level academic courses in an art based environment. The diverse cohort at my school genuinely allowed me to see the many perspectives that can be intertwined within one programme. Many students possessed "triple threat skills" and pursued careers in arts and culture, industry, and academics. Every possible path was an option.
During my experience with the DP, I wanted to take courses that were out of my comfort zone and challenged me intellectually, as well as something that I was extremely passionate about. I chose to take standard level biology, chemistry, mathematics, and of course art. At the time, I was not sure what I wanted to study in university. Would it be humanities? Sciences? Arts?
It was a difficult decision on choosing which courses I was going to take in the DP, as I was and still extremely passionate about visual and graphic arts and wanted to explore the depth of different techniques offered and develop my own artistic style. Taking these DP courses allowed me to be creative while being fully engaged, focused, and making the most of the highest quality of education offered at the secondary school level.
…my advice is to remember that it's all about personal development and to always keep an open mind.
Whether you decide to enroll in the full diploma or complete the individual courses you are most passionate about, my advice is to remember that it's all about personal development and to always keep an open mind. Your education will be uniquely different with IB. You will learn a lot, making mistakes on the way, which will teach you something, so there are in reality, no mistakes. Just things we learn by observing, practice, and doing.  Of course, everything and anything can be done with sheer will if you put your mind to it, but another piece of advice before you embark on your journey is to have a support system and find something that motivates or inspires you. It will make your journey so much more worthwhile. The Diploma Programme helped me learn how to react and analyze things critically, while taking new chances as there is always room to grow.
---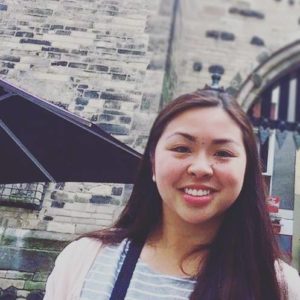 Diana completed her IB Diploma Programme courses at Victoria School of Performing and Visual Arts, Canada in 2012 and obtained a Bachelor of Commerce degree from MacEwan University in 2016.

Diana is hoping to start a Master's in Business Administration in 2017 with a focus in economic development. She is passionate about travelling to gain more insight and to have a better understanding on how people lead their lives in various cultures.

Have a great story to tell? Write to alumni.relations@ibo.org and learn more about the IB Alumni Network at ibo.org/alumni.