By David Hawley
As a head of school, I was always looking for ways to have conversations with students that had some relationship to what they were studying. A good place to start was to ask what they were reading in their literature class. W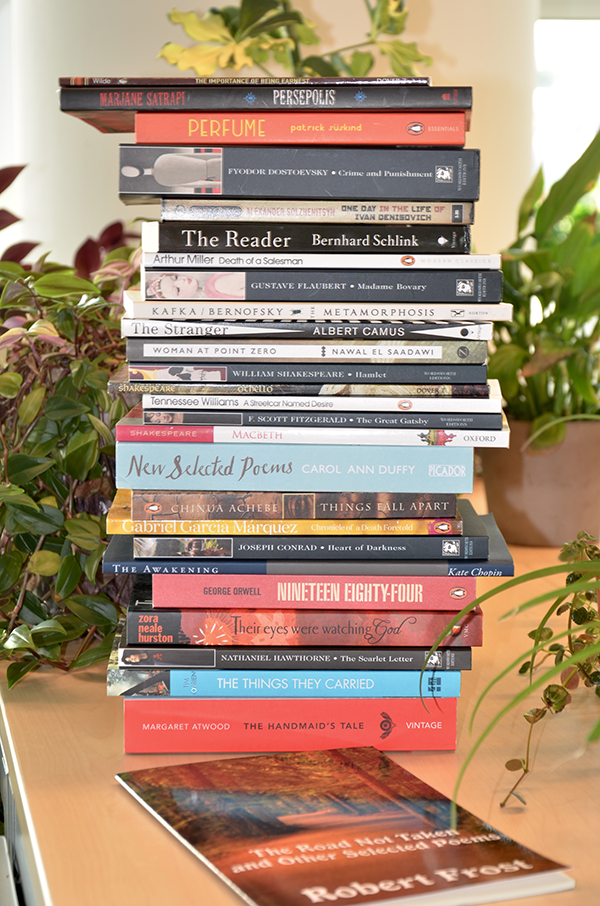 hile head of a boarding school where I would often have meals with students three times a day I had lots of time for conversation.
To prepare, I would ask the teachers teaching the English (and French and Spanish too) literature courses the works they would be reading with their students and then be sure to read them over the summer. In a single IB World School, that made for a reasonable summer reading list and led to some great conversations.
As the Chief Academic Officer of the IB, I knew I could not do the same thing with thousands of schools around the world but I was curious to find out what were the most commonly read works in IB World Schools. To do this, I looked at the works chosen by IB Language A literature (in English to start) teachers in 2016.
For those not familiar with the IB literature course, over two years, students read either ten or thirteen literary works depending on whether they are taking the course at standard or higher level. They study these in different genres, some chosen from a long list of prescribed authors and works in translation. And three can be freely chosen from any literary work ever written.
This allows teachers and students to tailor their reading to their own unique contexts and interests. Ideally, the works are chosen to complement what the students are studying in their other IB courses like history or anthropology. With all this flexibility of choice and so many options, the reading lists vary dramatically from school to school and can be different within the same school when multiple sections of the literature course are offered.
Is there any pattern? Not in terms of schools choosing the same combination of books. There are about as many combinations as there are IB World Schools. There is no IB canon. Haruki Murakami reminds us that "If you only read the books that everyone else is reading, you can only think what everyone else is thinking." We certainly don't want that. It is through a variety of literature that you can experience and explore that final sentence of the IB mission that states the aim of IB programmes is to "encourage students across the world to become active, compassionate and lifelong learners who understand that other people, with their differences, can also be right."
Even with all the options, across all IB World Schools, it was possible to see which works are the most commonly chosen.
Here are the top ten most commonly read works, across all genres in all IB World Schools
Hamlet, William Shakespeare
The Great Gatsby, F. Scott Fitzgerald
A Streetcar Named Desire, Tennessee Williams
Macbeth, William Shakespeare
Death of a Salesman, Arthur Miller
Othello, William Shakespeare
Things Fall Apart, Chinua Achebe
The Importance of Being Earnest, Oscar Wilde
Poetry of Robert Frost
Poetry of Carol Ann Duffy

The top ten most commonly read novels written in English
(excluding The Great Gatsby and Things Fall Apart mentioned above)

Heart of Darkness, Joseph Conrad
The Handmaid's Tale, Margaret Atwood
1984, George Orwell
The Eyes Were Watching God, Zora Neale Hurston
The Awakening, Kate Chopin
The Things They Carried, Tim Obrien
Beloved, Toni Morrison
Pride and Prejudice, Jane Austin
The Scarlett Letter, Nathaniel Hawthorne
Jane Eyre, Charlotte Brontë
The Kite Runner, Khaled Hosseini (tied with Jane Eyre!)
The top ten most commonly read novels in translation
Chronicle of a Death Foretold, Gabriel Garcia Marquez
The Stranger, Albert Camus
Persepolis, Marjane Satrapi
Perfume, Patrick Suskind
One Day in the Life of Ivan Denisovich, Alexandr Solzhenitsyn
Woman at Point Zero, Newal El Saadawi
Madame Bovary, Gustave Flaubert
The Reader, Bernhard Schlink
Crime and Punishment, Fyodor Dostoyevski
Midaq Alley, Naguib Mahfouz

The literature course, as described in the IB guide is: built on the assumption that literature is concerned with our conceptions, interpretations and experiences of the world. The study of literature can therefore be seen as an exploration of the way it represents the complex pursuits, anxieties, joys and fears to which human beings are exposed in the daily business of living.
These top ten lists are, of course, influenced by the location of the schools that offer the IB Diploma, about one-third of them are located in the United States and Canada. And there are many teachers whose chosen ten or thirteen literary works do not contain a single one of the works found in these top ten lists.
If you have not read any of these works, this summer/winter might be a good time to start. Even if you read them when in school, they will be a new experience for you today. Just think of 1984 and explore anew. Or choose a novel written in 1985 that seems particularly fitting for 2017: The Handmaid's Tale. I started with one I was unfamiliar with, Woman at Point Zero and it is the most powerful thing I have read so far this year. Yes, if you choose from these lists you might have something in common with an IB student.
---
David Hawley is the Chief Academic Officer at the IB.