Friends and family play an important role in a student's journey. We asked Diploma Programme graduates to reflect on a moment when someone they knew had a positive impact on their education.  Learn more about the IB Alumni Network at ibo.org/alumni.
---
The lesson I learned was confidence is the best color to wear, so long as it's humble.
by Ocie Marie Grimsley
The world is a constantly changing canvas with vague roots and rumored history. We only know about the past from the remnants we procure in a multitude of locations. We can assume their stories, but we are forever in the dark about the total truth. And that's okay. That's part of the fun; it's part of the ride.
With such a strange and atypical world surrounding us, the International Baccalaureate (IB) helped me become a problem solver that takes everything into account. I remember reading through academic papers and required readings in my college classes and picking out the logical fallacies I studied in theory of knowledge (TOK). Whenever I read something, I look for contextual clues that some may ignore: I'll cross-reference and dig deep to find what the truth of the matter is.
My beliefs—no matter how "stupid"–are what make me who I am.
But, before I enrolled in the DP, I had a county-wide nickname in my public-school system: Gullible Grimsley. This was true to the extent that I was a middle school outsider who just wanted to be accepted since I was the new kid. I was insecure, and so I took every chance I was given to make friends. Whatever they told me, I thought it was true because I didn't know anything about the county or community at the time.
I made a friend in elementary school to whom I clung because we shared a similar story (and the friendship is running 10 years strong!) And then, in middle school I befriended another kid who I thought would help me know the ropes of the community. This friend did just that, but I was also taught an important lesson from our, now terminated, friendship.
The importance of my former friendship is the fact that their lesson has stuck with me since we parted ways. We were both in IB classes; we were both taking extracurricular activities that were time-consuming and challenging in their own ways. But, come senior year, we both changed paths and just didn't click anymore. Change is bound to happen. The friend's name will remain undisclosed, but their lesson will not. Along with the support of the IB classes, this former friend helped me realize that my beliefs—no matter how "stupid"—are what make me who I am. And that it's okay for me to change, for better or for worse.
The lesson I learned was confidence is the best color to wear, so long as it's humble.
In the Diploma Programme, I was encouraged to use my own thinking; my own style of problem-solving when doing creativity, activity, service (CAS) projects; and my own language when doing oral internal assessment (IA) presentations. There wasn't a word-for-word script, just an outline. I found myself through a former friend and the IB; I found and developed the "true" Ocie. After all, the truth is like being authentic: It's undeniable, and it's variable.
I discovered that I like a good debate and researching what people really mean; and that my most creative way to learn is with music. Even if you don't do the whole shebang, you might learn something about yourself if you take an IB course or two for a test run.
So, what's your hidden truth? What makes you confident in yourself? I want to know.
---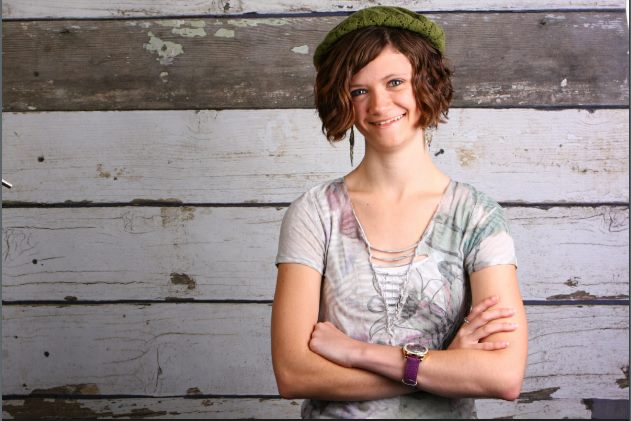 Ocie Marie Grimsley graduated from Clarke County High School with the IB diploma in 2015. Currently pursuing a BA in English at George Mason University, she continues her passion for learning and hopes to encourage others to break the mold and redraw the boundaries by thinking outside the box. She currently interns with the International Baccalaureate as an alumni communications assistant.
Have a great story to tell? Write to alumni.relations@ibo.org and learn more about the IB Alumni Network at ibo.org/alumni.