By Clare Wagstaff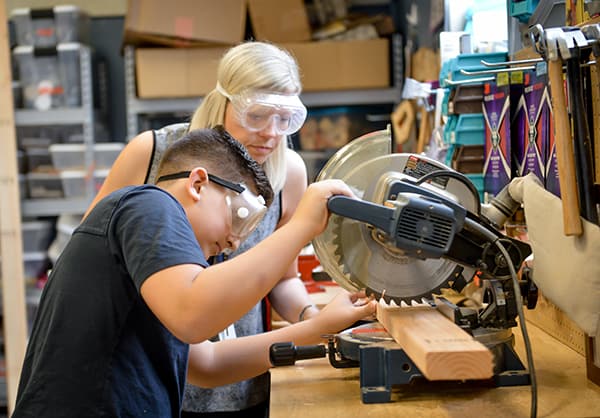 Annie Wright Middle School's design program is now in its third year. Although it has incorporated some of the beloved traditional Middle School projects such as the Milk Boat Regatta (in which Middle Schoolers create seaworthy vessels out of milk cartons and other recycled materials), it has also established new units that are quickly becoming Middle School traditions.
Design is one of eight key subjects in the IB Middle Years Programme (MYP), the curriculum framework for Grades 6-8. MYP focuses on 16 transdisciplinary concepts that guide each subject. For design these concepts are communication, communities, development and systems. Each grade in Middle School has 50 hours of design class per year to focus on inquiry, critical thinking and creative problem solving. Many of the units are interdisciplinary and/or collaborative with other grades or groups in our wider community.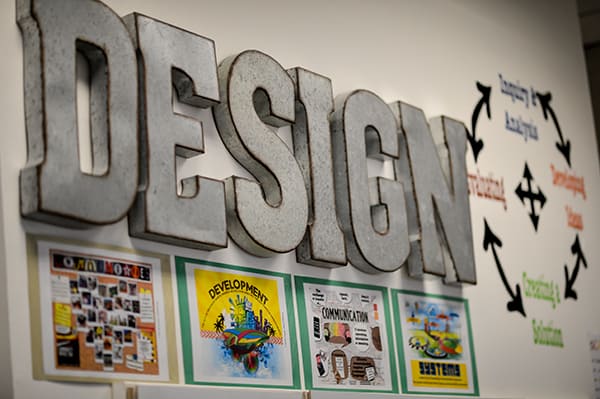 At the heart of the design curriculum is the design cycle, a tool that structures problem solving through a cyclical system of events and encourages design thinking. It is based on four criteria: inquiry and analysis, developing ideas, creating a solution and evaluation. Developing deep empathy, trial and error through iterations, and testing of the solution are also key components. Students do not use the cycle exclusively in design class; they may also apply it in other subjects such as math, science or English.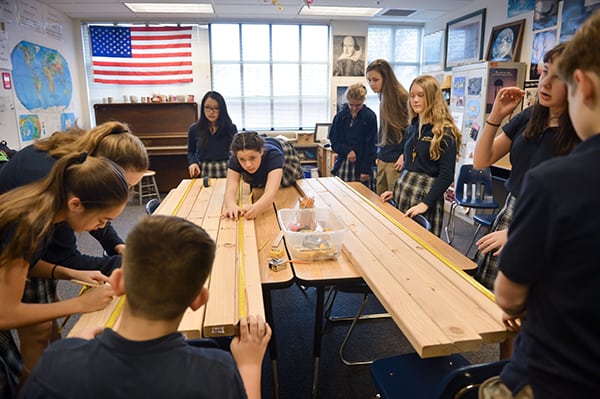 Over the past three years Annie Wright design teachers have conducted extensive research and engaged in professional development to gain a deeper knowledge of design thinking and its use within the classroom and beyond. They have also collaborated with the Middle School faculty, library media specialist and educational technology director to create a three-year course that identifies a distinct scope and sequence to prepare our students in three key strands: empathy, construction and coding. Each unit focuses on design thinking and the design cycle as the underlying scaffolding to solve various challenges. Examples of these include product design, plastic bag bridges, milk boats, Rube Goldberg machines, storytelling, documentary filmmaking, coding, app design and oral histories.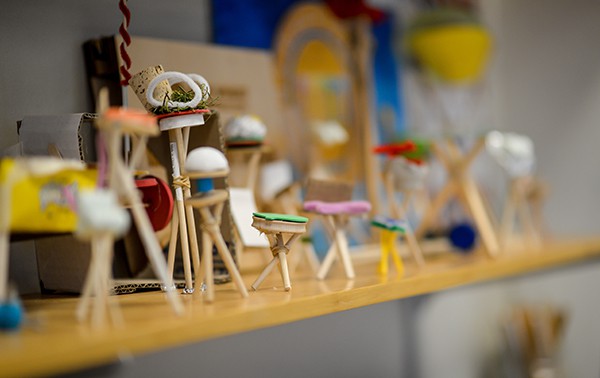 The design lab is still a work in progress but has come a long way in the last two years since it was established in the former Middle School art room. Created as a maker space, the lab combines "old-school" tools for woodworking and textiles with more contemporary equipment such as laser printers that can cut and engrave and access to 3D printers. Still, the most popular items seem to be glue guns, duct tape and the wall of random supplies!
The wonderful thing about design class is that no two days are the same, nor will you find any two students doing the exact same thing in the same class. While all students are set the same design challenge, they may approach it in different fashions and with very different solutions. Some may solve the challenge using traditional skills and tools such as hand saws or sewing machines, while others may use the more high tech tools such as the 3D printer to create a plastic scale model or program an Arduino, a microcontroller that senses and reacts to the environment, using JavaScript. The options for differentiation are endless!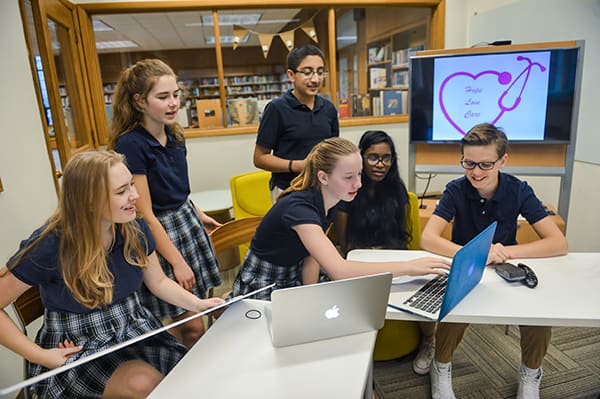 Collaboration is also a large component in design. Students collaborate with a "client" to create a stool to solve a seating problem, with a team of peers to design, build, and race a milk boat, or with younger students to create a cardboard arcade that will engage and motivate them to learn a new skill.
At the core of design and design thinking is developing a deep understanding of the problem that is being addressed. Gaining empathy for the person or specific problem is essential before diving into a new project. This skill shone through in the Grade 8 Verizon App Challenge unit, and it was a key factor to the success of winning the Washington State division. The grade spent the majority of the time researching the community issue before they even addressed their possible solutions, and the depth of this research provided a valuable basis to take their solutions to the next level.
"While all students are set the same design challenge, they may approach it in different fashions and with very different solutions."
Another key component to design is reflection. Each student starts a documentation blog in the beginning of Middle School and continues it through all three grades as a way to track progress through the design cycle. Students are then able to review their progress over the years in all four criteria and see development of their skills.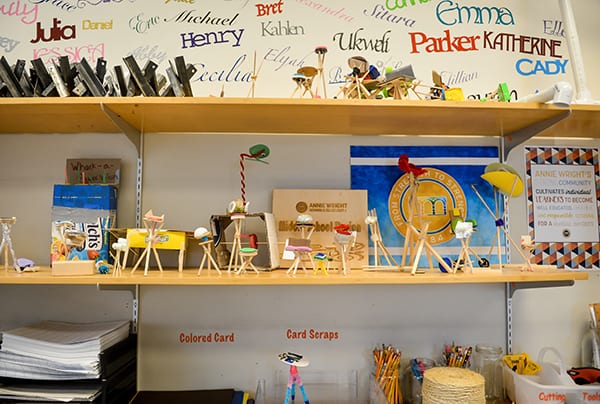 One of the most exciting and mission appropriate aspects of the design cycle and design thinking is the development of skills to apply to real-world challenges. Students learn how to think beyond their personal bubbles, examine a problem critically and deeply and unleash their creativity in possible solutions, while constantly reflecting on what could be done to modify and improve. Annie Wright is continuing to expand design thinking throughout the schools, transcending grade and subject levels in a purposeful and practical way, preparing students for the world they will inherit.
---
This article was first published in Strength: The Magazine of Annie Wright Schools. Written by Clare Wagstaff, Assistant Director of Middle School at Annie Wright Schools, Tacoma, Washington, USA.
Photo credit: Oona Copperhill