MYP students win international award for their dance performance, which showcased an honest portrayal of friendship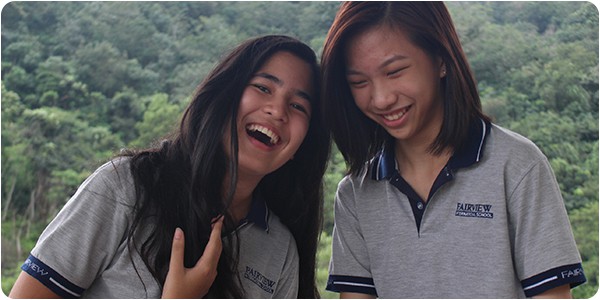 Two friends at an IB World School in Malaysia put on an award-winning performance, depicting what true friendship really means.
With no prior experience or knowledge of contact dance improvisation, Middle Years Programme (MYP) students Sonya Janejit Kaur and Celine Poon from Fairview International School, in Kuala Lumpur, won the Contact Dance International Film Festival (CDIFF)'s Bronze Jury Award for their short film and dance choreography called Wake Me Up.
REAson D'etre Dance Productions organizes CDIFF, which is held every two years in Canada. The festival celebrates films featuring momentum-based and contact dance improvisation. This year, 30 films from 19 countries were showcased.
Sonia and Celine worked together for their personal projects. They said: "We tried to incorporate different elements and stages of friendship in our choreography through the use of techniques and theories such as Isaac Newton's theory of counterbalancing. We felt that through contact improvisation, a true depiction of friendship could be shown.
"Our movements had deeper meanings that symbolized the events and emotions we have gone through, especially in our journey of friendship throughout the years."
Director of REAson D'etre Dance Productions Kathleen Rea was impressed by how the film managed to capture the judges' attention and described it as "exceptional" even though both students had no previous skills.
"We chose to express friendship through this film because we felt that contact improvisation was a strong base that could help us truly symbolize our friendship," add Sonia and Celine. "We saw the dance as a good way of showing the relationship between two individuals and how our identities cause conflict and joy throughout our friendship."
Principal Dr Vincent Chian is proud of the students' achievements. He says: "These achievements alongside many others echo our ethos that when children are encouraged to aspire passionately, believe in themselves and persevere through challenges, their true potential will be unleashed.
"The students were risk takers as they showed determination and grit; open minded in their weaving of different cultures into their work; and were deep communicators in the unique way they shared their message with the world."
---
This article is part of a series of stories from IB World magazine that bring to life the wonderful initiatives undertaken by IB students and educators from around the globe. Follow these stories on Twitter @IBorganization #IBcommunitystories. Share your great stories and experiences: email editor@ibo.org