An MYP student with a visual impairment has excelled in the MYP eAssessment. The IB's Dr Kala Parasuram tells IB World magazine how making the examinations accessible was a learning experience for everyone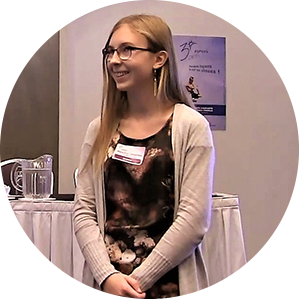 When the Middle Years Programme (MYP) e-Assessment launched in 2015, it represented an important milestone for the IB. It was the IB's first major step towards digitization and truly tested the student's ability to apply understanding, rather than just memorizing facts. Many schools were excited to be involved.
The onscreen exams are designed to support access and inclusion. Accessibility was carefully considered from the outset, says Dr Kala Parasuram, IB Access and Inclusion Manager.
But there wasn't a Braille version available, which student Marie-Ève Letourneau needed in order to sit her eAssessment in 2017. Marie-Ève, who is blind, caused by a degenerative disease, attended École Pointe-Lévy in Lévis, Québec, Canada.
MYP coordinator Manon Tessier informed the IB assessment team back in 2015 to ensure everything was in ready for Marie-Ève by 2017. It was a request that caused the IB assessment and inclusion team to rethink the entire exam.
A few years ago, the IB made a strategic decision to make the onscreen environment completely accessible for a student with vision impairment rather than produce a Braille paper version of the examination.
Rising to the challenge
When the IB gets a request for vision impairment in the IB Diploma Programme (DP), it's easier to fulfill because those processes have been in place longer, explains Dr Parasuram.
"All we have to do is inform our examination production team and Braille modifiers look at the examination and change what is needed – not the content of the question, just in terms of adapting it in order for it to be Brailled – then a Braille version is sent to the student.
"But it was completely new ground for the MYP eAssessment so every single thing had to be done in house."
As many of the subjects in the MYP include a great deal of visual processing, lots of careful preparation was needed to ensure it was a fair process and free from any prejudice.
Dr Parasuram says: "It was a huge challenge as there was no prototype or precedent to work from. The IB assessment team had previously built accessibility features in the onscreen product but when Marie Eve's request came in we had to then execute what we had only spoken about conceptually. And that meant getting into the detail of every single question."
They decided there were three options to make it inclusive for visually impaired students – change the question in the standard version, such as removing unnecessary imagery, for example; adapt the presentation of the question; or use tactile materials, especially for graphics presented in physics and mathematics.
The team did all three. "We delivered all the examinations for the student and it went really well. Feedback was positive and they were really happy," says Dr Parasuram. "It was great teamwork. Everyone got involved – the access and inclusion team, examination production, including the multimedia team, and subject managers. Colleagues who did not know much about accessibility also got involved. Everyone learnt a lot through this process."
Marie-Ève was also given access to a human reader at all times, and she excelled in her exams. She is now in college.
Making her mark
"Marie-Ève was pleasantly surprised with the whole process," says Tessier. "For a while she was worried, especially with the graphics because you can't really describe a graphic to a reader, and vice versa. If you have to interpret a graphic, the reader would be giving the answers. But, when the examination booklets came in with the tactile graphics she was really impressed."
Tessier adds: "The examination was fair to Marie-Ève. She is such a brilliant student and we didn't want this to cause her any prejudice. She adapts quite easily to any situation.
"Learning how to manage one's self in approaches to learning (ATL) helped her with stress management and adaptation. Also, our school staff invested a lot of time, energy and money to find the perfect people to read for Marie-Ève and to get her ready for the exams."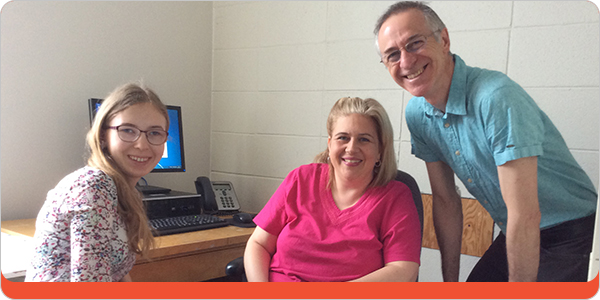 Marie-Ève found the E-portfolios (coursework) in language acquisition and physical education the most difficult. "In language acquisition, criterion A and B were difficult because of the visual part. In physical education, it was hard to choose sports that Marie-Ève could do," says Tessier.
"But, in the end, everything turned out great and all were satisfied with the results."
Marie-Ève will be remembered for years to come at École Pointe-Lévy. For her MYP personal project, she built a conference for parents of blind children starting high school and presented it to an organization of parents of blind children.
Tessier says: "She was so good that the organization asked her to come back, and filmed her. They shared her conference with other parents. It was really appreciated."
Visitors to École Pointe-Lévy have seen Marie-Ève's work in the personal project exhibition and voted it their favorite and most impressive.
As École Pointe-Lévy revels in Marie-Ève's success, the MYP department is preparing for this process again. Marie-Ève's brother, who also has the same visual impairment condition, will be sitting the eAssessment in 2019. However, he does not use Braille yet so Tessier and her team are not yet sure what modifications will be needed. But the IB is ready to make the process a smooth one.
"Because of Marie-Ève's experience, we are prepared and have a roadmap to make our eAssessments accessible for any environment. We have all the right processes in place," says Dr Parasuram.
---
How does your school support students with additional assessment needs? Email editor@ibo.org