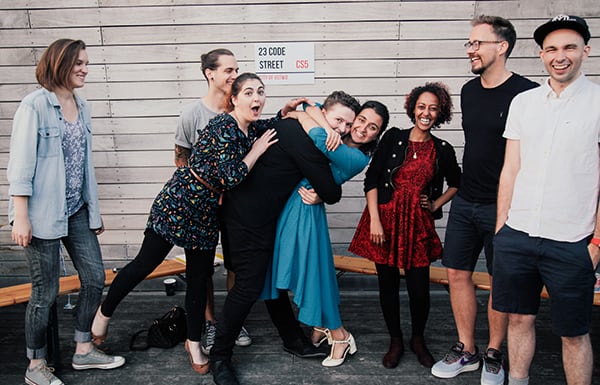 The founder of 23 Code Street, and IB alumni, Anisah Osman Britton, tells IB World magazine how she is making coding more accessible to women in the UK and India
Anisah Osman Britton is challenging the concept that the tech industry is a man's world.
Since completing the IB Diploma Programme (DP) at Bilborough College, in Nottingham, UK, Anisah founded 23 Code Street – a coding school for women in the UK, where every paying student will fund a lesson for a disadvantaged student in the slums of Mumbai, India.
The school, which is based in London, gives students the foundation that they need to become developers. While in India, it is working closely with a Mumbai-based non-profit, which concentrates on women's health, to plan classes in the city from September 2018. 23 Code Street will focus on digital skills, which will provide the necessary skills to help women get data entry jobs and regain independence. In the future, 23 Code Street will also teach coding.
Looking back, Anisah always thought she would go to university after school, as this seemed a natural pathway. "I don't think I had really considered anything else apart from going to university," she says. "But the IB made me realize that university wasn't my only option.
"The open-minded way of approaching education and the way you are encouraged to question everything you know, made me realize that I had other options open to me and that, actually, I had the skills and confidence to go down another route".
Lack of women in tech
Anisah realized that she wanted to start her own company, and after graduating from Bilborough College, she interned in businesses around the world to gain an understanding of what was needed to start and grow a company.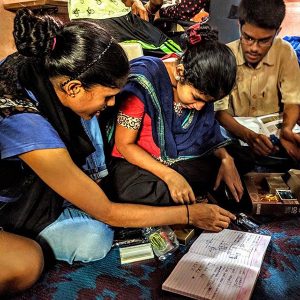 "I didn't have any knowledge of technology. But, as I fell into the tech industry, I realized how valuable it would have been to have had some of these skills at college, and have had conversations around the impact of technology, the lack of women in the industry and the change we could have been part of".
Five years ago, when Anisah was working at The Bakery – a company that pairs brands with tech startups – she realized that the tech industry was male-dominated. Nine out of 10 people she worked with were men.
"I heard views I disagreed with, I found people patronizing towards women who didn't have technical skills, or, more importantly, who didn't have tech jargon as part of their vocabulary. I saw that we worked with a majority of startups, which were led by men, and the female-founded companies had to prove themselves that little bit more.
"I saw men in Third World countries, especially the rising working class, who had doors opening for them because technology was accessible to them. And I saw products and services that seemed to forget that women existed".
For example, Apple released a health app without a period tracker on it for women.
"23 Code Street was born out of a need to give women the skills to build the future, to be part of the conversation and to diversify the tech scene", says Anisah.
She started pushing for more women on teams at The Bakery, and over time the gender split improved from 20 per cent female, to 40 per cent. Tom Salmon, founder of The Bakery, realized the value women bring to the industry and invested in Anisah's idea of a coding school for females.
"We need women who are marginalized and often forgotten in certain societies to have the tools and knowledge to be able to even imagine a change they could create", explains Anisah.
She credits the DP for the success of 23 Code Street, as it challenged her in ways that she'll never forget. "The DP taught me how to ask for help and to be grateful for that help, and how to be a team player. I hire smarter people than me and don't feel threatened. I challenge people to be better than me in my own company. I go to employees for advice", says Anisah.
"The IB also taught me to be proud of being a feminist. Nobody had labelled me that in a positive way before. I came to understand feminism meant the fight to be equal. I debated history, literature and science, to understand the role (or lack of) of women in the world. The day I graduated, my English teacher gave us all a book as a parting gift. I was given A Vindication of the Rights of Woman: with Strictures on Political and Moral Subjects (1792), written by Mary Wollstonecraft. I read it and realized how far we'd come but also, how far we had to go".
Expanding into Europe
To date, Anisah has won four awards and has been nominated for 'We are Tech Women finalist 2017' and 'Forbes 30 under 30 nominee 2017'. In addition, many London students have successfully completed the course and gone on to work in the tech industry.
But, it's just the beginning for Anisah and 23 Code Street. She wants to create more courses in the UK and expand to other cities in Europe. "We are also bringing the courses online", she says.
"In India, we want to create a sustainable model where our alumni begin training our new students. If we were to ever close, which is not the plan(!), we want to have left the infrastructure for the community".
---
Do you have a story about an inspiring IB alumni? Get in touch with your story and we'll try and share it as part of our 50th anniversary celebrations, during which we want to celebrate our IB community around the world.