MYP students bring the community together to help ensure children can continue to learn and play after multiple natural disasters sweep through the USA
"I sat in shock. Glued to the television watching what was happening as Hurricane Harvey hit the southeastern coast of the USA. My heart was bleeding for these people. We had to do something," says Middle Years Programme (MYP) teacher Sandi Mangan at John Glenn Middle School of International Studies, in California, USA.
Mangan discussed what she had watched with her MYP class, and how difficult it would be to recover from a natural disaster. "The students talked about how they felt bad that the children were in shelters and unable to attend school, or even have anything to do while there", she says. "They started brainstorming about how we could especially help the children, and began the 'Help for Harvey' disaster relief".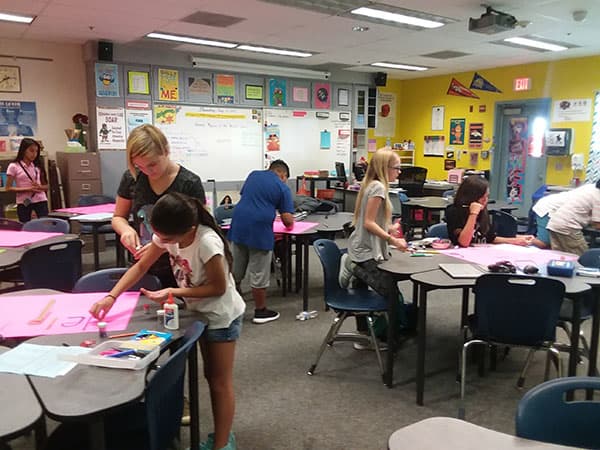 Around 80 students from across the school came together to help. But, word spread quickly. Within a week, parents and families were also donating clothing, shoes, blankets, pillows, basic living supplies and items for children. In total, Mangan and her students collected 52 garbage bags and 63 boxes full of goods.
2017 remains unforgettable for those in the USA as three major hurricanes hit parts of the country between August and September, causing extreme devastation. "Before we finished collecting supplies for Harvey, hurricanes Irma and Maria wreaked havoc in Florida and Puerto Rico. The students' response was, 'let's keep collecting things for all three, and name our disaster relief 'Help for Hurricanes'".
"By the end of our collection period, an 8.1 earthquake hit Mexico City and an enormous wild fire ripped through Santa Rosa, California. At this point, the students were believing that this might be a full-time activity".
It was an invaluable learning exercise, says Mangan. "This disaster relief became a great conversation starter for how our students could make a difference and also for discussing what IB learner profile attributes they modelled.
"I was so proud of the compassion and caring our student body revealed. Students talked about how resilient and generous people are and also posed the question, 'Would others around the country help us if we had a catastrophic earthquake?'".
---
This article is part of a series of stories from IB World magazine that bring to life the wonderful initiatives undertaken by IB students and educators from around the globe. Follow these stories on Twitter @IBorganization #IBcommunitystories. Share your great stories and experiences: email editor@ibo.org