Therapy dogs, meditation and relaxation—a 'Stress Fair' explores healthy ways to cope during exams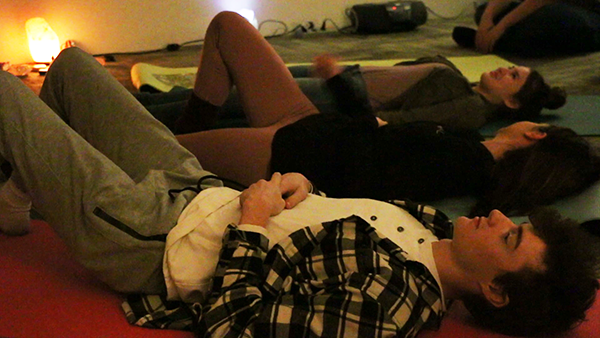 So many teenagers experience stress at some point; whether it be personal or school-related. Exam times can be especially difficult. That's why students at Queensbury High School, New York, USA, organized a 'Stress Fair' to provide an outlet and help peers cope with stress in a positive and uplifting environment as they prepare for upcoming assessments.
As part of their creativity, activity and service (CAS) project, IB Diploma Programme (DP) students Kiernan Lockwood, Alexandra Winters and Janae Greenholtz helped students relax with therapy dogs, and arranged for a psychologist to share tips on how to handle test stress and anxiety. Attendees to the fair also had the chance to practise meditation and read up on relaxation techniques.
"We chose the last school day before midterms—a day where stress is at its peak," says Alexandra. "Students could take time out from vigorous studying to focus on themselves and their wellbeing."
Kiernan adds: "I learned about therapy dogs being used in other local elementary schools to help reluctant students start the day in a positive way, and thought about how I could bring therapy dogs to our school to brighten up everyone's day and alleviate stress."
The students teamed up with Paws for Obedience of South Glens Falls, a dog therapy organization. A therapy dog has been trained to provide affection, comfort and love to people in need. It is proven to lower blood pressure, lessen depression, decrease feelings of isolation and anxiety, and increase focus and literacy skills.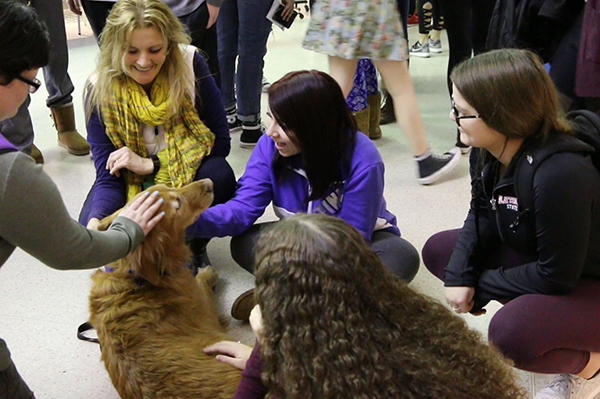 Students were happier and calmer by the end of the one-day fair. Janae explained: "The response to the fair was overwhelmingly positive. One student told me that they were dreading a test they had that afternoon but, after seeing the dogs and doing some breathing and meditation, they felt like they were ready and prepared."
Kiernan, Alexandra and Janae improved their communications skills and learned how to organize a school-wide event.  "I also learned a lot about myself," says Alexandra. "Such as how I handle stress, and what I could be doing differently."
After their DP exams in May, the trio hope to organize another stress fair just before local final exams to help their peers.
---
This article is part of a series of stories from IB World magazine that bring to life the wonderful initiatives undertaken by IB students and educators from around the globe. Follow these stories on Twitter @IBorganization #IBcommunitystories. Share your great stories and experiences: email editor@ibo.org.