The inspiring story of the retired IB teacher who set up a learning centre in Zambia for children with cancer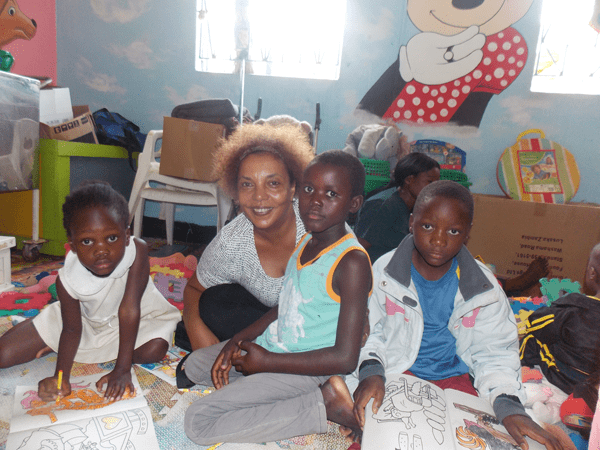 "My passion for the IB philosophy instilled in me a desire to make a stand for education in Africa. There are many of us with the same passion, yet few of us take the risks to make things happen".
Andrea Mwalula is a retired IB teacher and member of the IB Educator Network (IBEN) from Zambia. Last year she set up a learning centre in the Zambian capital, Lusaka, called Twende Education for All (TEFA). Housed inside the University Teaching Hospital (the largest state-owned hospital in Zambia), it welcomes children who are suffering from long-term cancer, to ensure they continue their schooling while undergoing medical treatment.
"The main goal of TEFA is to empower the children and women of Zambia", Mwalula explains. "We are working with the vulnerable, ensuring they get quality education, and develop skills and mind-sets to make better lives for themselves and their communities".
Mwalula certainly has the experience to deliver this bold project. For over 20 years she worked in international education, including IB World Schools in Zambia, Kenya, Tanzania and Cambodia. She recently returned to Zambia, her former home, hoping she might use her expertise to "revamp the educational sector" there.
Mwalula talks passionately about what originally motivated her to establish her centre. "For me, it was the upsetting visits to local and government schools where children were sitting on floors; where teachers were trying their best yet had no opportunities for professional development; and the fact that our children were still being taught in what I call 18th-century ways: rote learning, with no differentiation, and no appreciation or support of their needs and interests".
In January 2016 TEFA finally opened its doors. Initially, it was "a tiny little room" with just Mwalula and two volunteers staffing it for eight hours a week.
It quickly outgrew its original site so that it now has new premises, two full-time teachers, and 65 children on the register. Mwalula has even been asked to open up a second learning centre in another part of the hospital.
She says her background as an IB educator and IBEN member has helped her enormously. "The 10 attributes of the IB learner profile is something we continuously embed in everything we do. For me it is important to get our little people actively involved in their own learning, taking responsibility for their actions, behaviour and attitudes. So now you will find the children cleaning up after themselves, helping each other, and being more willing to collaborate and take risks. The phrase I probably use the most is: 'Follow your dreams, have a goal, and remember that making mistakes is all part of the learning process'".
At TEFA, Mwalula is placing particular emphasis on the importance of the arts. "Music, drama, dance, visual art and creative art… we have tried very hard to integrate them into our learning," she explains. "It's an area that has been sidelined in the Zambian curriculum. We offer our children a platform to express themselves using a variety of media, which they love. We have talented dancers, singers, models, designers and artists. Seeing them explore and display their work is so touching".
Mwalula has also been moved by the way her students collaborate. "When you see the children working in small groups, or presenting their learning to their younger peers, it brings tears to my eyes", she says. "They are so used to being talked to, copying stuff off a blackboard, and not having their own voices. Now they question and explain what they are doing with confidence and pride. We are slowly rising above that 18th-century mind-set of the teacher-directed classroom".
All along, Mwalula has fought hard to secure funding for her learning centre. Financial support from her family and well-wishers has helped buy classroom furniture and stationery, and has even contributed to teacher salaries.
As the centre grows, so the teacher costs will inevitably grow with it. Mwalula knows she will need to work hard on raising funds in the future. "Once the second learning centre is open, TEFA will have around a hundred children. We will need four more teaching staff on board, resulting in higher monthly expenses on salaries".
But that's all part of the challenge. She admits her journey so far has not been an easy one. However, as an educator, the rewards are immeasurable.
"In times of despair, all I have to do is look at my children. They may have medical tubes in their arms or feet, but their eyes are full of love, hope, smiles and laughter, despite all they are going through".
The funding of her centre has always proved to be an uphill task, and she has often been frustrated by bureaucracy. But she has soldiered on. "I see the children's enthusiasm and love for learning, their achievements and talents", she says. "They give me the drive and strength to carry on".
---
This story is part of our 50th anniversary celebrations in 2018. Look out for #weareIB—a campaign to thank and celebrate the wonderful IB educators who make the world a better place through their innovative educational practices. Join the campaign by posting messages using #weareIB or contact us by email about someone you think we should contact for a story.