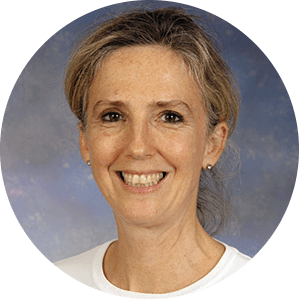 From Argentina to the UK, Irene Fanning studied the IB Diploma Programme (DP) at St Catherine's School, Buenos Aires and is now head of modern languages at a school in England. Irene has taught in three IB World Schools: St Catherine's School, Buenos Aires Argentina, Northlands School, Buenos Aires, Argentina; and The Abbey School in Reading, UK.
"I went into teaching without really thinking about it very much. I was looking to earn money and travel, so I did some cover lessons at my school and before I knew it I had a full timetable that I was juggling with my university finals.
"I love all things Spanish: the history, the language, the art, the architecture, the music, the literature. So, from the very beginning it made sense to go into teaching as it allowed me—and still does—to do research, teach and discuss with young people all these things that I am passionate about and earn a living along the way.
"Miss Moyano is my most memorable teacher and my role model. She taught the Life and Civilisation paper of the English B course—which no longer exists. It was all about British 20th century art and she was my Extended Essay supervisor. She let me use her personal library to do my research, these were pre-internet days and it was difficult to get hold of books about the art scene in 1960s London, in English.
"As an IB student, I had experienced first-hand how the DP works and benefitted enormously from it. I have been very lucky that the schools I have worked in offered the DP but, even if they hadn't, the way I teach has been influenced strongly by the principles that underpin the IB.
"My favourite part of the job is preparing lessons. Working with young people keeps you on your toes and it is refreshing and rewarding. You have to know your students well and be aware of the chemistry of the group. Even if you have taught the same literary text for several years, you don't know until you discuss it with your class what will be of interest, what will go down well. In a way, you are learning how to be a good teacher alongside them. I am constantly impressed by their intellectual risk-taking."
---
This story is part of our 50th anniversary celebrations in 2018. Look out for #weareIB—a campaign to thank and celebrate the wonderful IB educators who make the world a better place through their innovative educational practices. Join the campaign by posting messages using #weareIB or contact us by email about someone you think we should contact for a story.